Making a camper out of a cargo trailer is a great way to get into the RV lifestyle without breaking the bank. There are DIY RV projects to suit almost any budget.
But it's not only about saving money.
10 Reasons to Build Your Own Cargo Trailer RV Conversion
There are many benefits from building your own camper trailer compared to purchasing a travel trailer.
Before we get to look at great examples of cargo trailer campers let's have a look at the benefits of a cargo trailer conversion vs a travel trailer RV.
Or you can skip ahead if you are already sold on the idea.
1. It Will Be a Lot Cheaper
You can buy a brand new 7 x 12 enclosed cargo trailer for under $3000. For comparison travel trailers start at an absolute minimum of $10000 and can go above $60000.
Even an old used travel trailer will probably cost more than a brand new high-quality box trailer that you can remodel to your exact design.
Travel RV's are over-engineered because fancy features sell. But they often include expensive solutions for simple problems.
Old used travel trailers can often have problems i.e. water damage, dry rot, leaking tanks, problems with appliances. The ongoing cost of maintaining a travel trailer RV will be significantly higher than a conversion box trailer.
2. You Can Insulate and Spec Out to a Higher Standard

Often professional travel trailer manufacturers build to lesser standards than you might have. They anticipate you will use the travel trailer in an RV Park that will have electric hookup.
When you have electric hookup you can run an electric heater. So not all travel trailers have the best insulation.
They don't think you'll need it and also it's a way for manufacturers to cut costs on something this is hidden inside the walls.
If you are building a camper trailer from scratch you can specify the level of insulation you want.
Cargo trailers have straight walls and are easy to insulate. You can put 2 or 3 inches of foam on the walls and 6 inches on the roof. Your super-insulated trailer conversion will be warm inside without expensive heating systems.
Also, with the cargo trailer RV electrical system, you can build something much better than what comes in commercial caravans.
With your own conversion, you can install a high-spec solar system so you can go off-grid, explore more remote places, and save money on RV parks.
3. It Will Be More Durable & Last Longer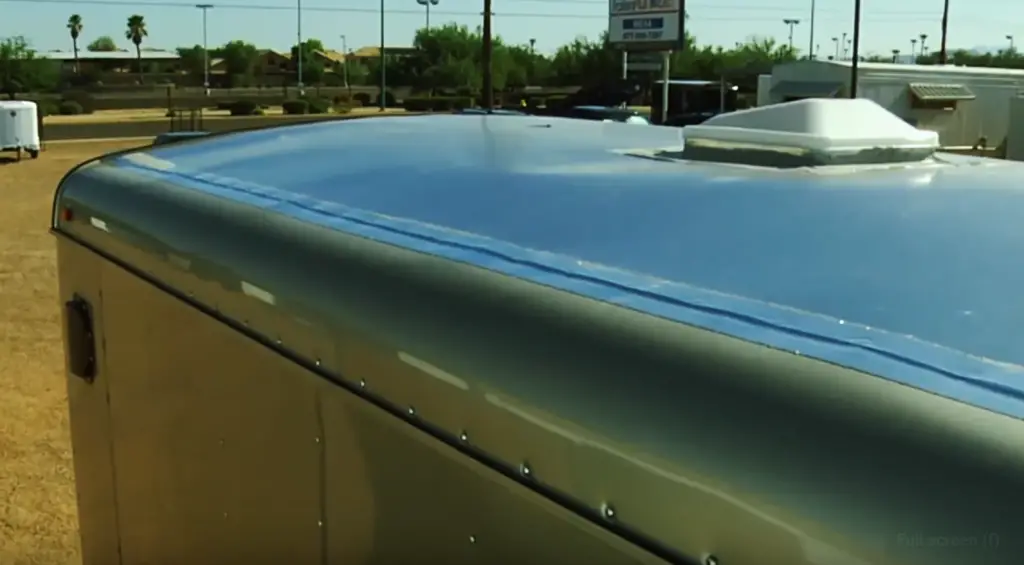 Aluminum cargo trailers are built to last. They are simple, and even if they do need a repair it will be cheap. They won't get scrapes from tree branches.
If you do the conversion yourself you will learn how everything works. This will mean you are confident and able to fix any small issues without paying money for expensive repairs.
You can every buy a cargo trailer with a 1 piece aluminum roof that is never going to leak and won't need resurfacing.
You can expect to use a good cargo trailer for decades.
4. It Will Weigh Less & You'll Get a Better Gas Mileage
You'll get more miles for your buck with a lighter travel trailer. You'll also cause less stress on your tow vehicle.
Even a small cargo trailer can make a great home with clever planning.
The whole point of a camper trailer is to get some freedom. But if going on vacation costs crazy amounts on gas then it starts to be very restrictive.
Getting better gas mileage will mean you can finally take those long-distance road trips you've been dreaming about.
5. You'll Be Able to Take it Off-road
In a narrower and shorter mini cargo trailer camper, you will be able to get off the beaten track more easily.
Even a large box trailer can have a greater ground clearance to allow you to go places you can't with a travel trailer.
This will open up a whole new world of low-budget camping possibilities.
6. It's a Blank Slate
Commercial travel trailers often come with features that you don't need.
Black tanks are a good example. Why would you want to drive around with tank full of poop in your RV? And force yourself to need to find an RV dump station to empty it.
In Europe all RV's use a cassette toilet system. You remove the cassette every week or 2 and empty it in any restroom toilet. You can put the whole cassette inside a backpack so nobody even sees what you are doing.
You can buy a porta potty for under $100. Simple, cheap and effective.
Alternatively, you could install a composting toilet in your box trailer camper.
There are better ways to do things that the system that has evolved using black tanks, sewer hoses and dump stations.
Your cargo trailer conversion RV can have the exact setup that you want and utility trailers come in all shapes and sizes.
Commercial RVs also have a tendency to use fabrics and materials that are not what you would have in your own home.
Cheap laminate wood is used frequently in travel trailers when you build your own cargo trailer camper you can have the furniture that you want.
Why let someone else choose the furniture and the decor of your own home? That's what happens with a typical RV travel trailer. While there are some beautiful looking high-end commercial trailers they tend to have a high-end price too!
With a cargo trailer conversion, you have the opportunity to have it looking exactly how you want it. You can go create a bare-bones budget cabin or a luxury suite depending on your budget and taste.
You can even use the same wallpaper that you have at home!
7. Cargo Trailers Hold Their Value & You'll Add Value By Converting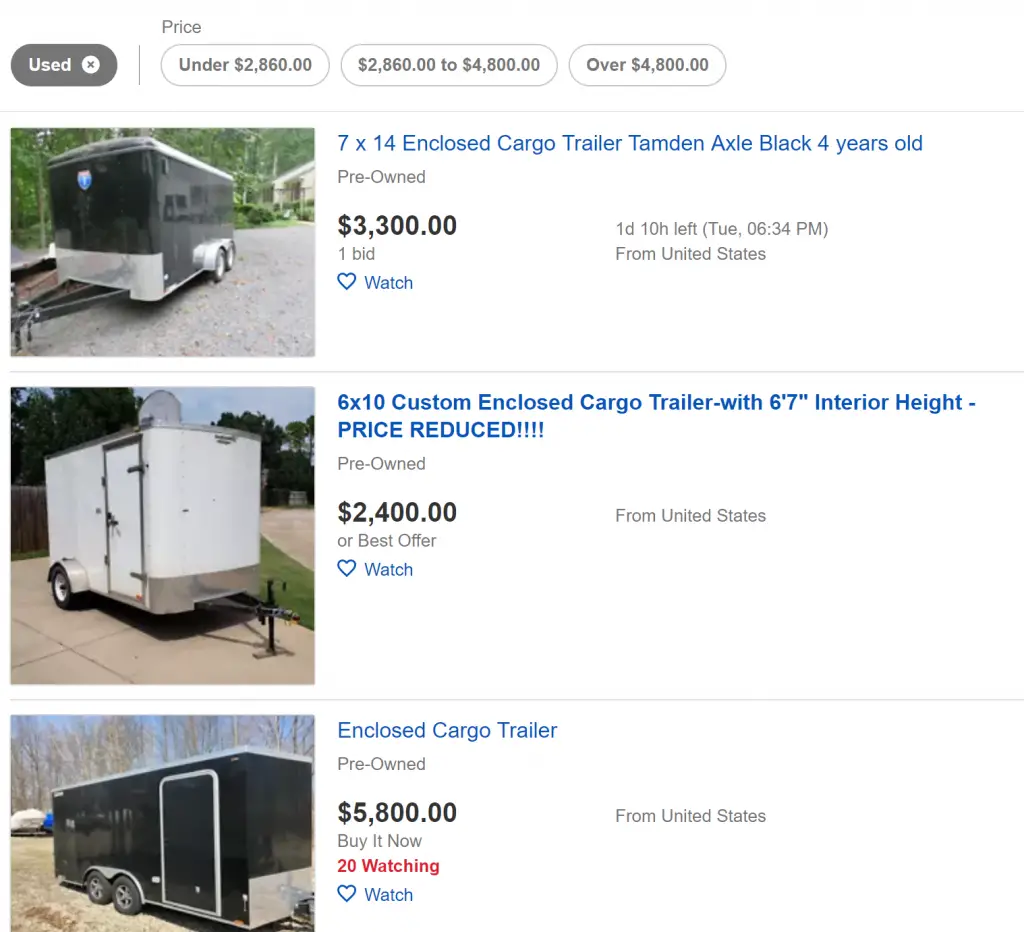 Rather than losing money buying a travel trailer, you'll add value by doing your own cargo trailer conversion.
A lot of people are scared away from doing simple tasks like wiring up a 12v solar electric system.

But with a few basic DIY skills and youtube to help you'll transform an empty shell into a livable, off-grid cabin on wheels.
And rather than depreciating your cargo trailer will go up in value.
Also even empty used cargo trailers seem to hold their value well. That's why it's recommended to buy a new one to use for your conversion project. There is not much money to be saved by buying second-hand.
8. You'll Save Money On RV Repairs
Once you how to build a travel trailer from scratch, you'll know how to repair everything. This will save you so much money and give you confidence when using your trailer for camping vacations.
Keep some basic tools and spare parts in the RV and if something goes wrong during a camping trip you'll have the skills and the knowledge to fix it yourself.
9. A Cargo Trailer Tiny House Is More Stealthy

You can park places in a cargo trailer that when you would be moved on in a travel trailer.
Most cargo trailer conversion RVs look like pretty much like plain cargo trailers on the outside so they attract less attention. True it's not as stealthy as a plain camper van conversion but you'll still go under the radar more often than you would with a large RV trailer.
10. Your Box Trailer Can Be Useful For Many Purposes
This last point is a biggie.
A conversion can be a much more all-purpose trailer than a regular travel trailer.
If you design it right you can still use it for transporting cargo when it's not in RV mode.
If you have any particular sports or hobbies you can design your conversion cargo trailer to fit your lifestyle and use it as a toy hauler.
You might park a quad bike in the middle of your "living room" while touring and park it outside while in RV mode.
You could use your cargo trailer for going kayaking at the weekends and leave the kayaks at home when you go on a summer vacation.
For people that love the outdoors those big barn doors or ramp door that open fully really bring the outside in. A ramp door can make a perfect deck area.
You just don't have these types of options with a standard travel trailer.
Cargo trailers are the most versatile RV shell that you can build upon and can be adapted to many uses.
Utility trailers give you all the versatility of a van conversion without the need to trade your vehicle for a van or to own 2 vehicles.
When you are back at home base you can park it in the backyard and it'll make a great little home office. Or man-shed to escape to.
The variety of options for cargo trailer conversions are endless.
This video by Extreme Budget really outlines why converting your own cargo trailer to a camper is a great idea:
14 Inspiring Homemade Camper Trailer Ideas
To learn how to turn a cargo trailer into a camper look no further than these inspiring examples.
Once you've seen what these guys have achieved you'll be confident that you can build something similar.
This page is a big one and a great reference so you might want to bookmark it or pin it to Pinterest so you don't forget it.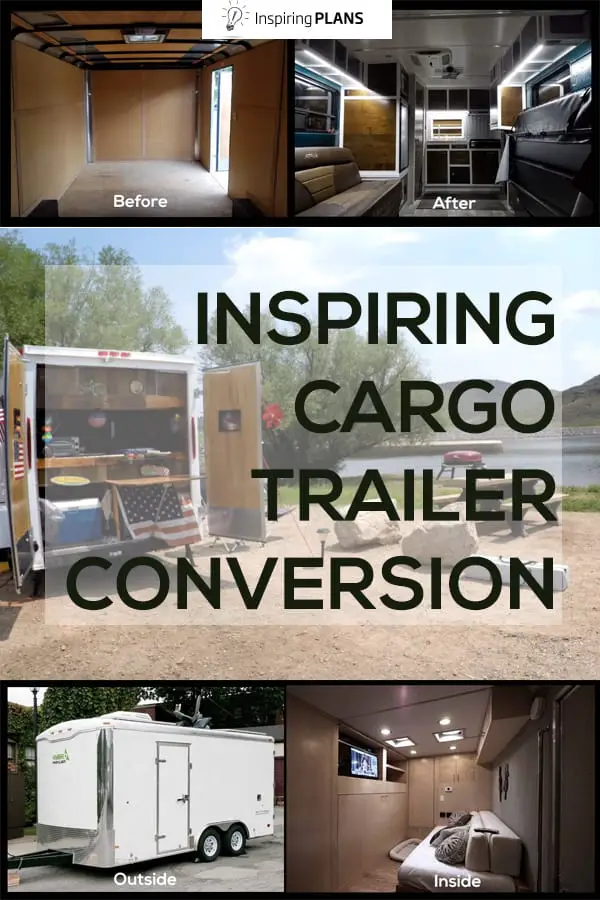 Make & Do's 4 Week Utility Trailer Camper Conversion
Make & Do started with a 16-foot travel trailer and stripped off the wood inside.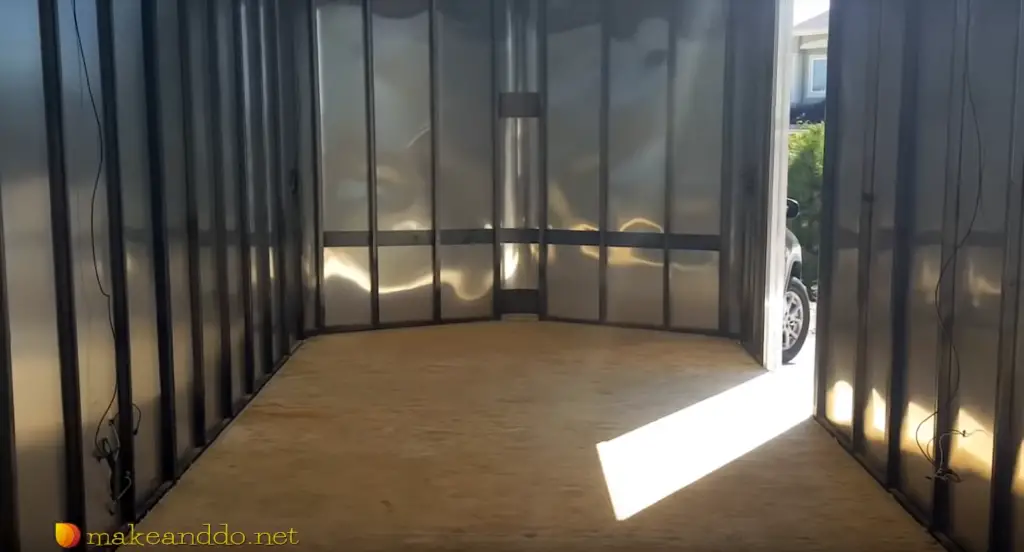 They used sheet metal and caulk to fix any holes between the walls and the floor.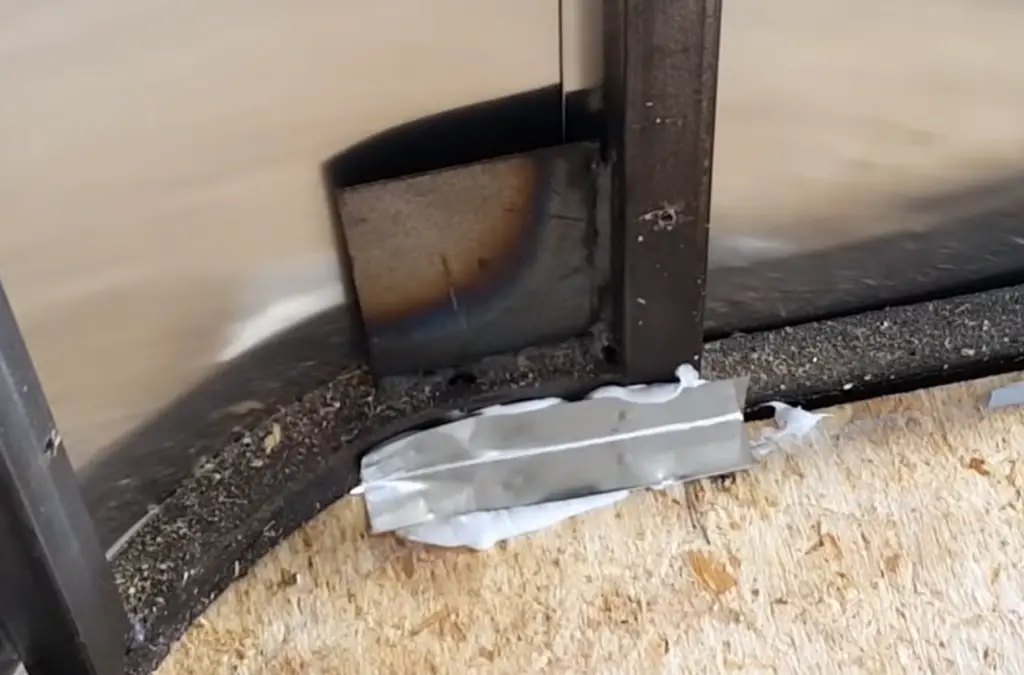 They then sealed the floor with waterproof paint.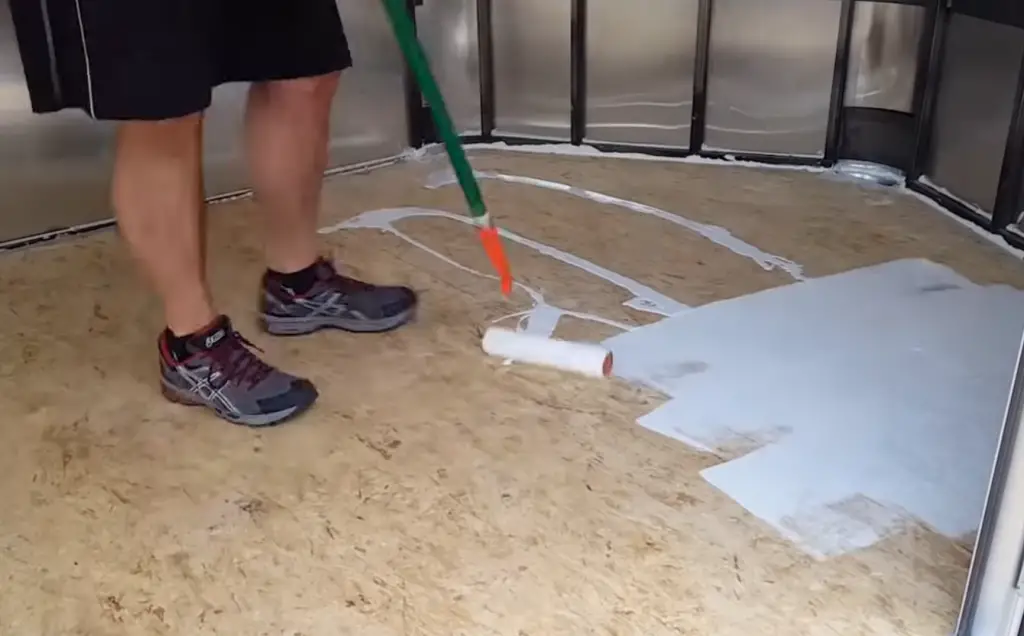 They used sheet insulation on the ceiling and filled the gaps with expanding foam.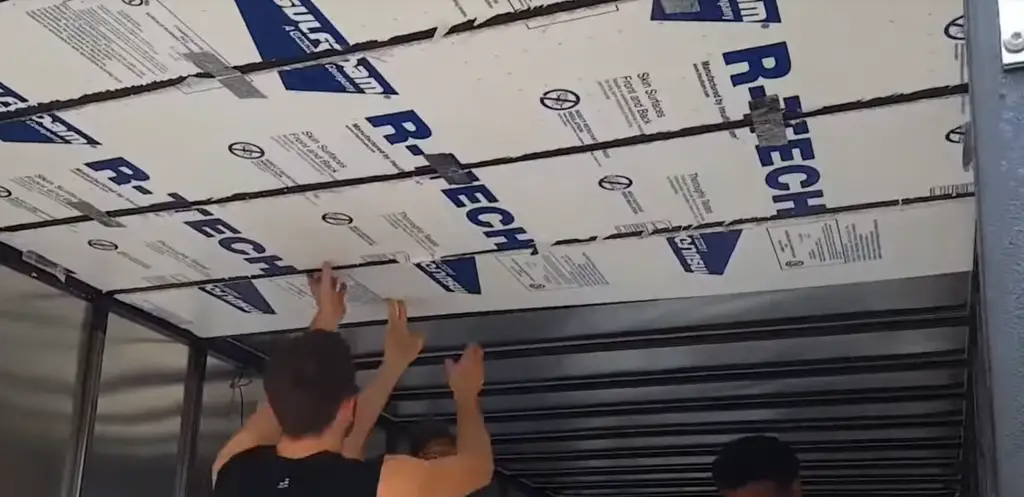 And screwed boarding into the metal beams.

And painted the ceiling using a roller brush.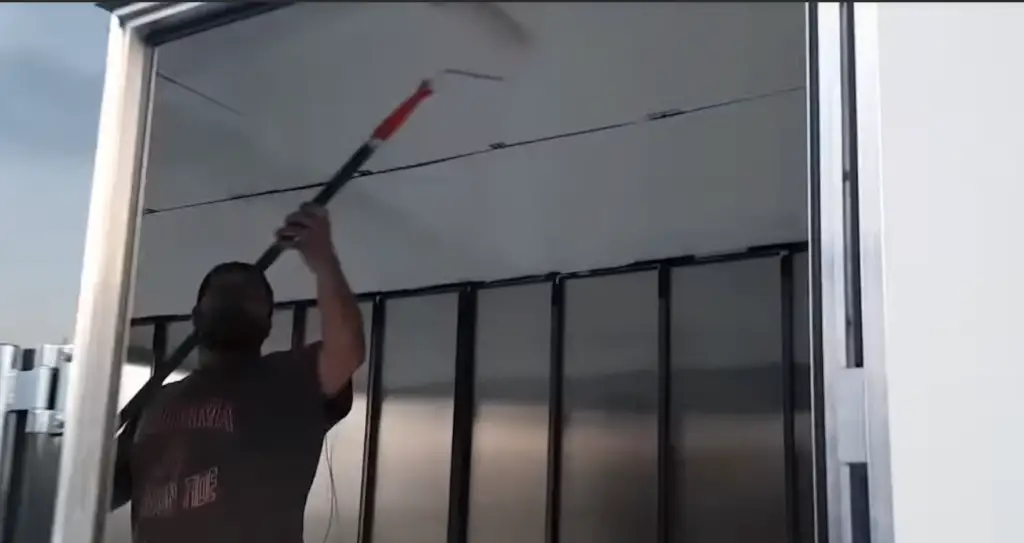 They insulated the floor and included wooden struts for support and again the gaps were filled with expanding foam.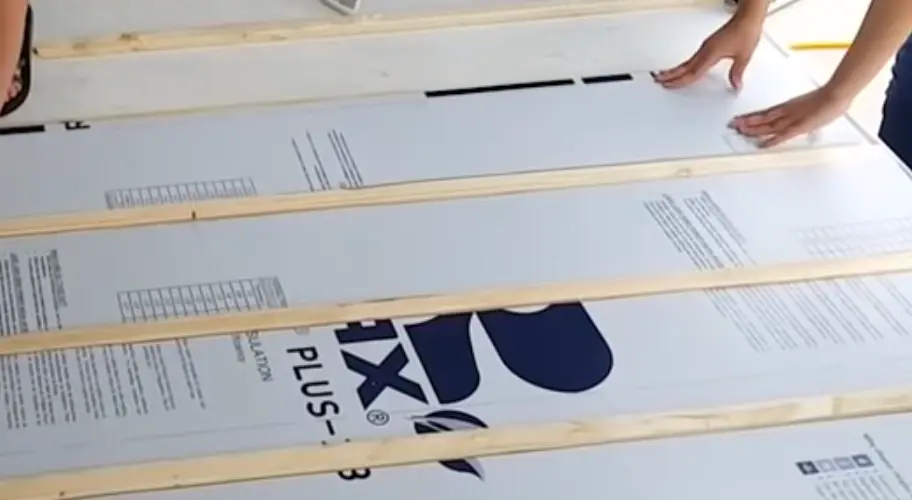 On top of that went a half-inch wafer board and some laminate flooring.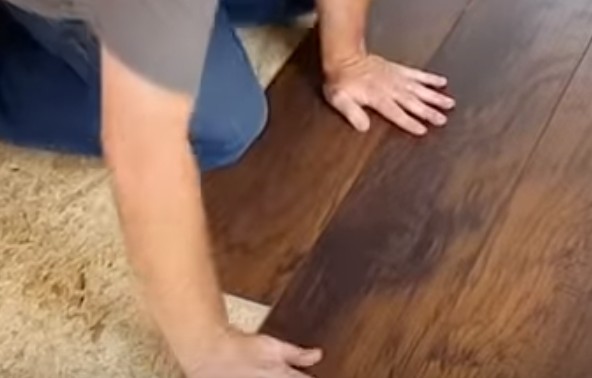 The walls were then insulated, and covered with bead-board. It was starting to take shape and work began on the stud walls.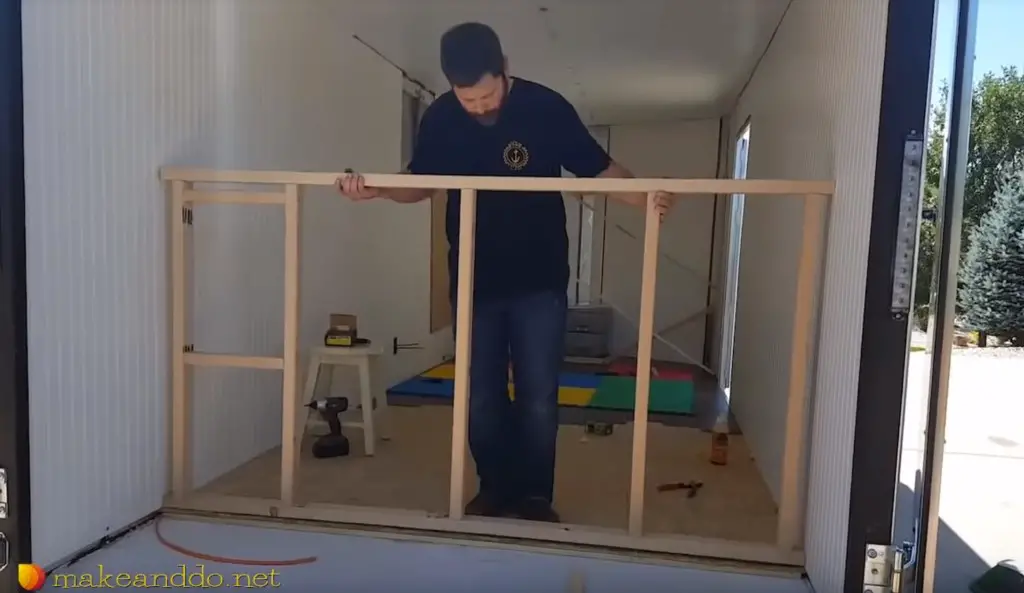 They cut a hole in the roof for a vent.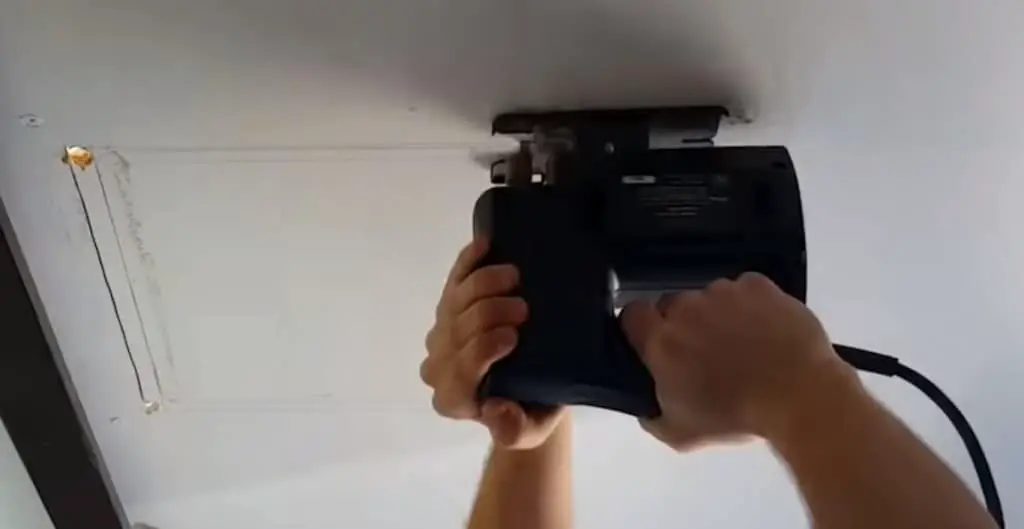 And make it watertight using caulking.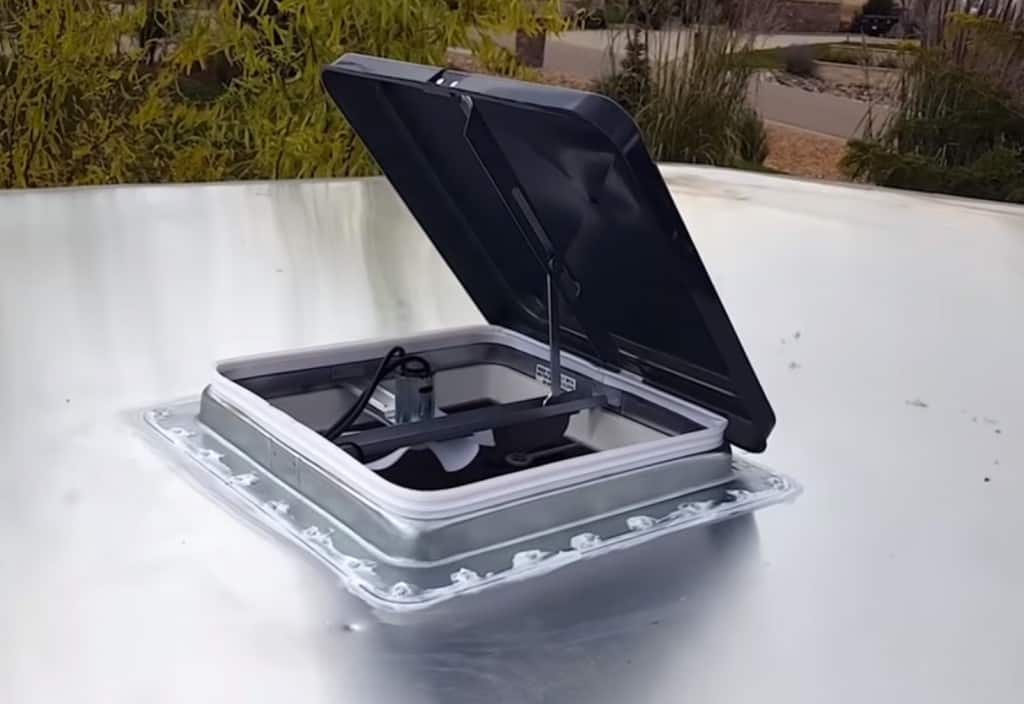 The outdoor kitchen was a great way to insulate the barn-door wall. I will be perfect for those outdoor cook-ups!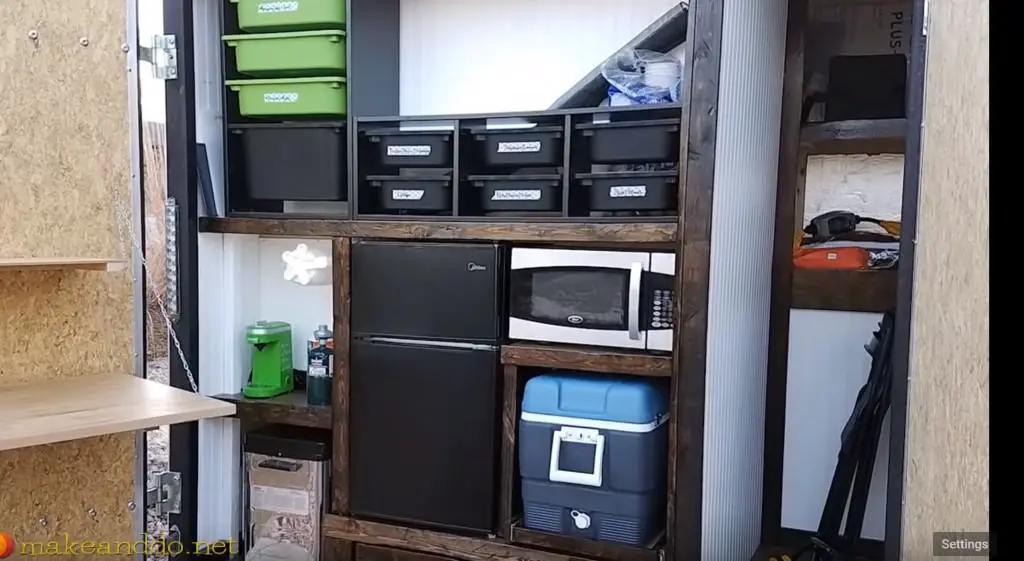 On the other side of the kitchen 2 beds were installed as well as steps to climb to the top bunk.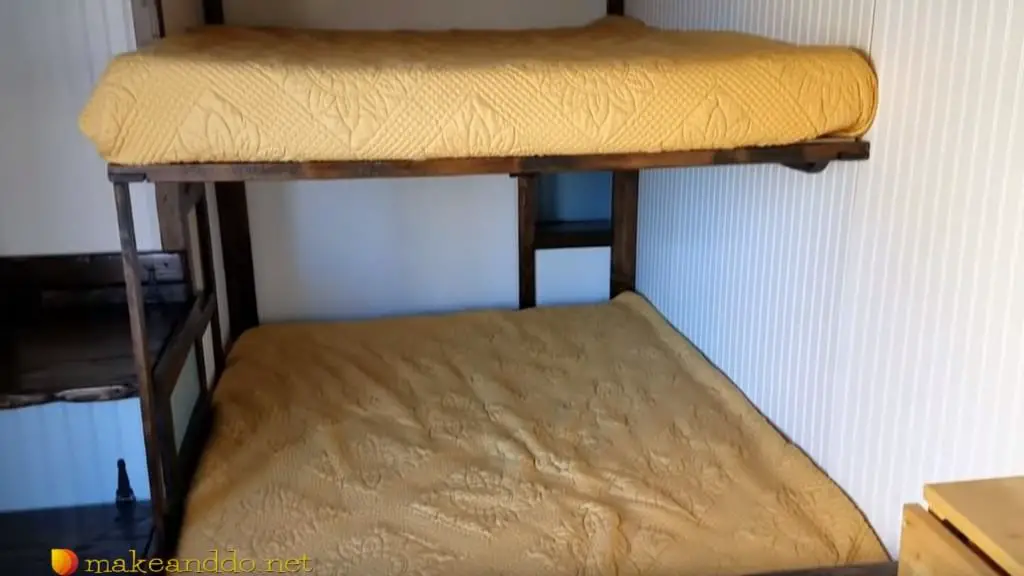 And a bathroom was installed in the v-nose section of the trailer.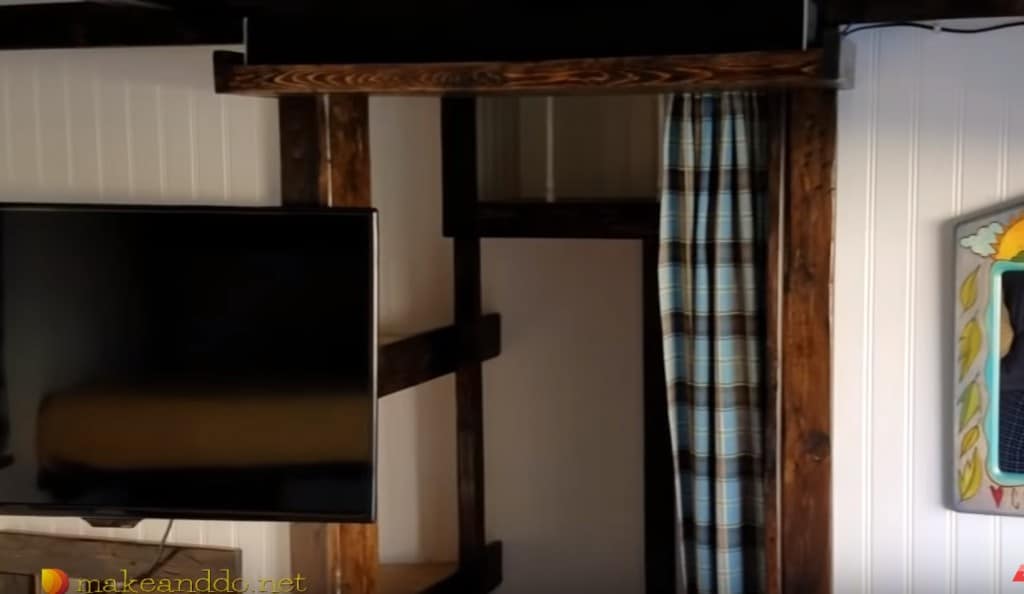 The end result is a great camper that would suit an outdoors lifestyle.
I strongly recommend that you watch the video above. There was an interesting comment from a tech at an RV dealership who thought this build was better than an $80k camper.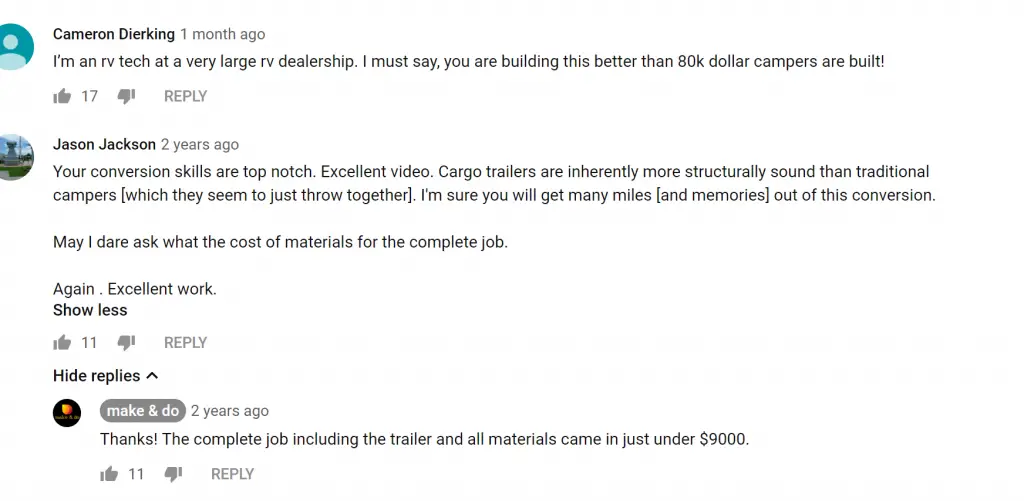 Make & Do built the completed the job for under $9000 including the price of the trailer. And they did it all in 4 weeks!
Bret's 6 x 12 Enclosed Single Axle Trailer Camper
Brett added is own graphics on the outside that he got for $85 from eBay.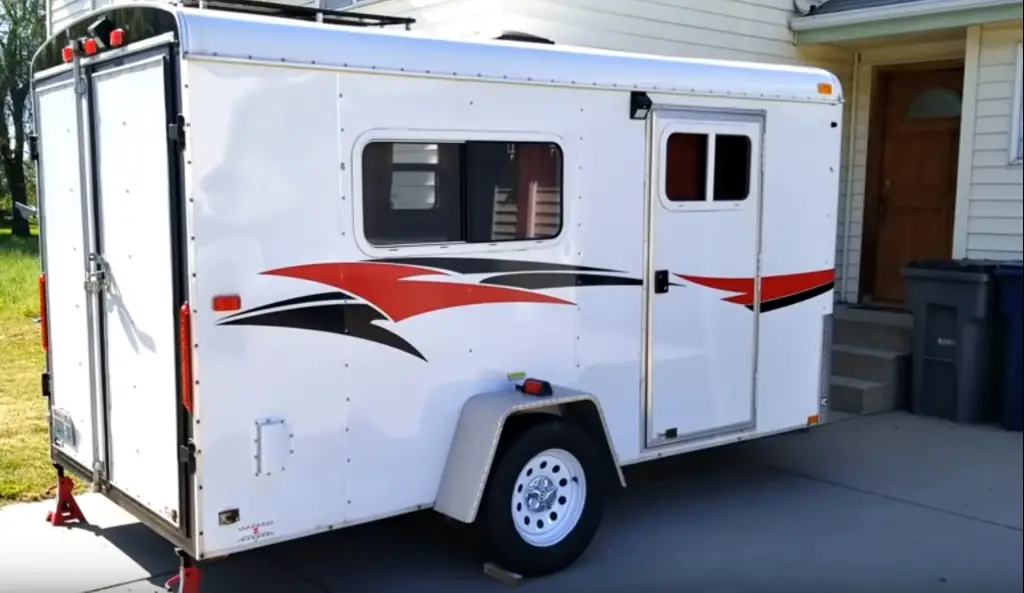 He also added solar-powered motion-activated security lights on the outside. They can be switched off when driving but provide a little extra security. It's a neat touch that you might want to consider for your own cargo trailer camper.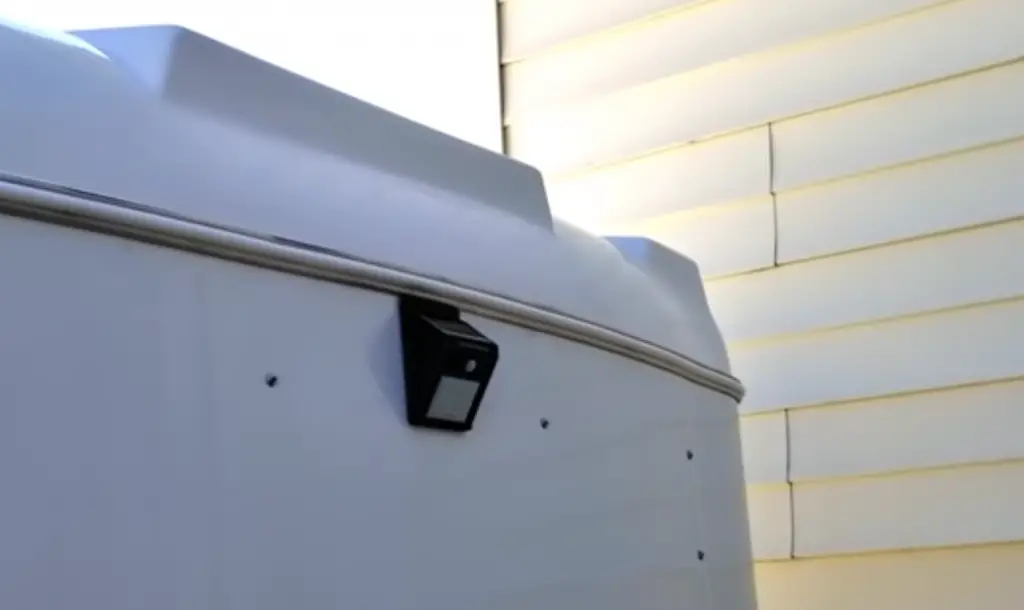 On the inside, he attached a wastebasket to the inside of the door. This means the bag can be emptied standing outside with the door open. I imagine that's handy in case of any burst bags!
The mini-kitchen is equipped with microwave, a Keurig coffee maker and a refrigerator.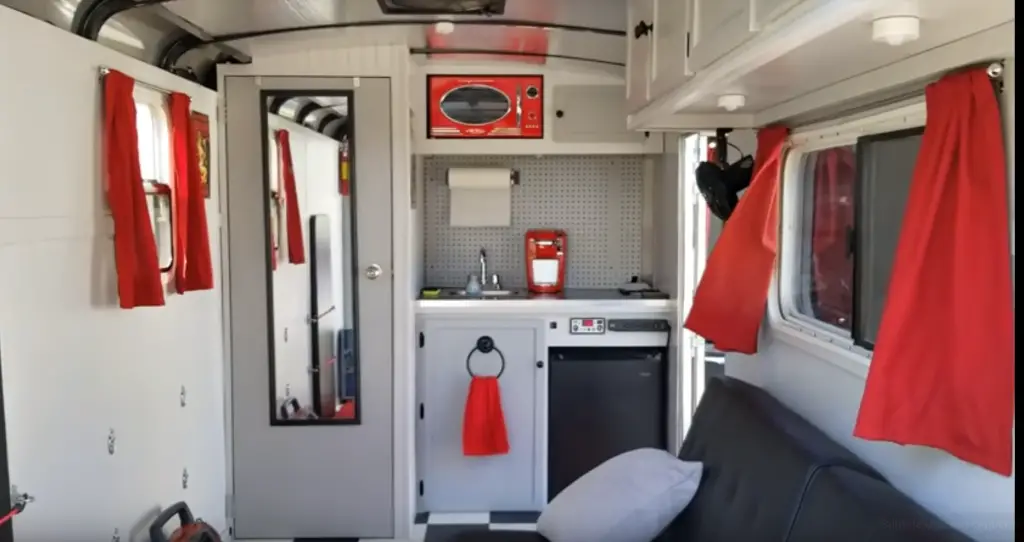 Brett mounted a 32-inch tv on the inside of the back door. This means that it can be watched inside or even while sitting outside with a campfire going.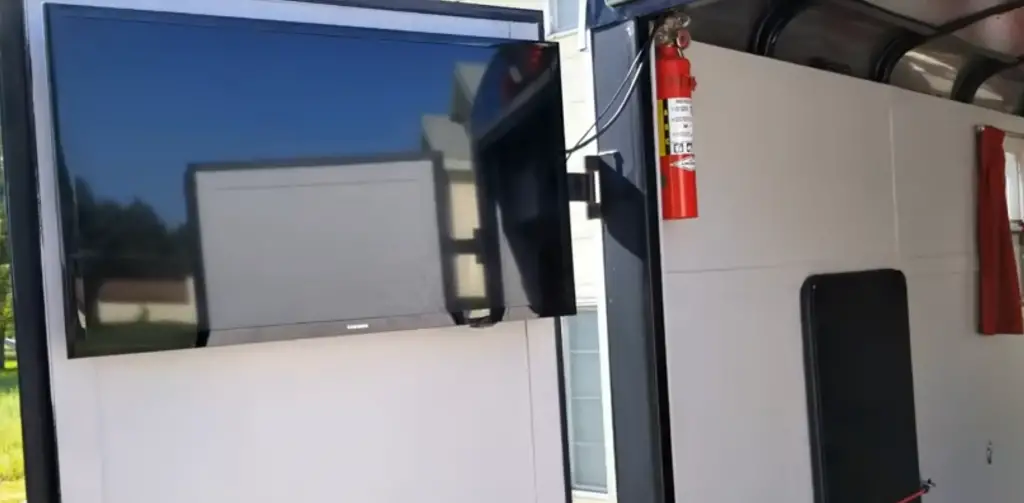 The bed is a futon that can be removed so the trailer can still be used to haul cargo if required.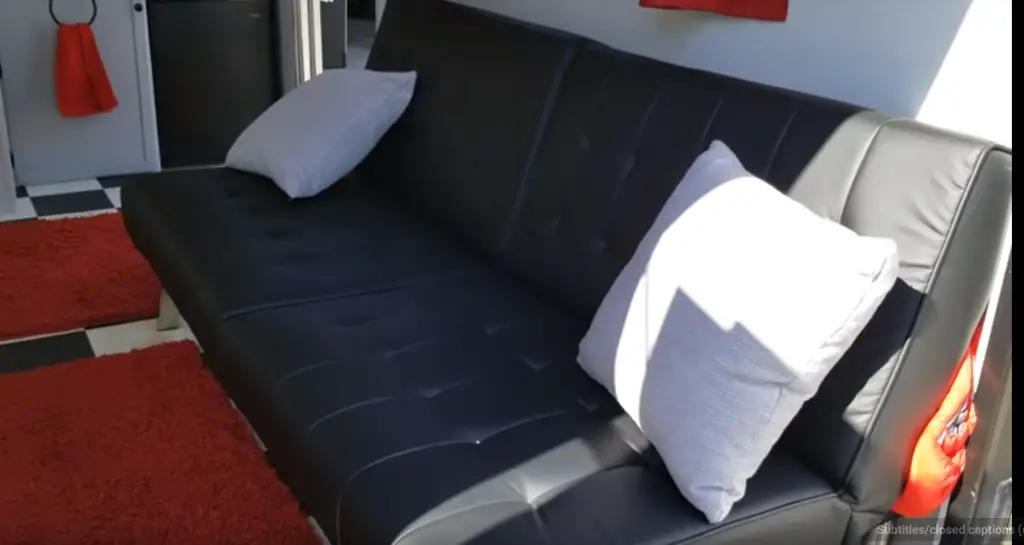 There's porta potty in the closet too!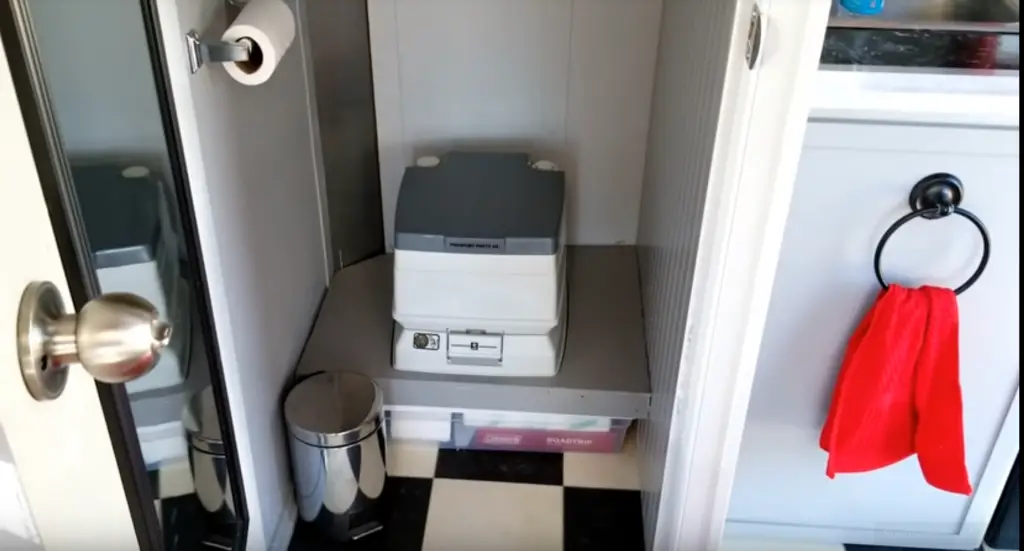 It's like a little apartment on wheels. Brett estimates that he spent between $4500 to $5000 doing the remodeling and he insured the finished project with State Farm Insurance for $8000.
RedDotTactical556's Stealth Travel Trailer RV
RedForTactical556 bought this cargo trailer new for just under $3000. On the outside, it looks just like a plain white enclosed box trailer.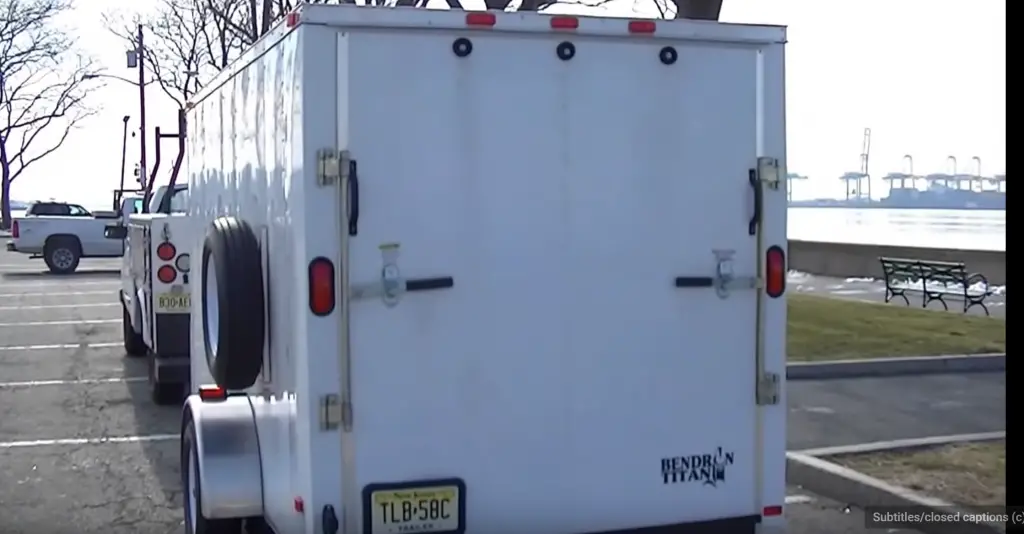 He made sure to get a v-nose design to improve gas mileage. His past experience of towing a flat 4×8 box trailer was like towing a parachute behind the truck so he wanted something more streamlined.
He painted the underneath of the trailer to protect the wood. And painted the roof with silver seal to prolong the life of the rood.
He then added a window to the door that he bought on eBay for just $8.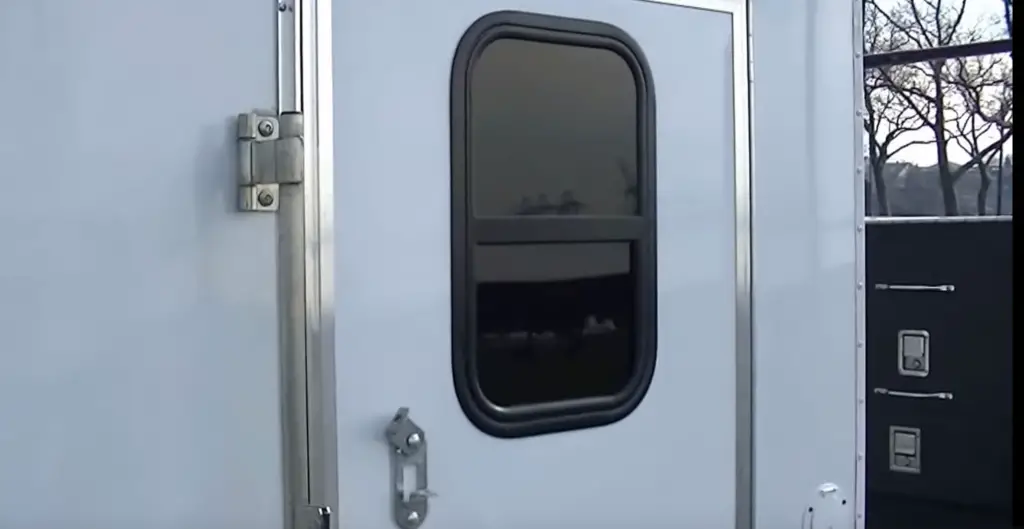 To save space on the inside he installed a hidden shower head on the outside so he could shower outside. He also added a water fill point and a tap to drain the grey water.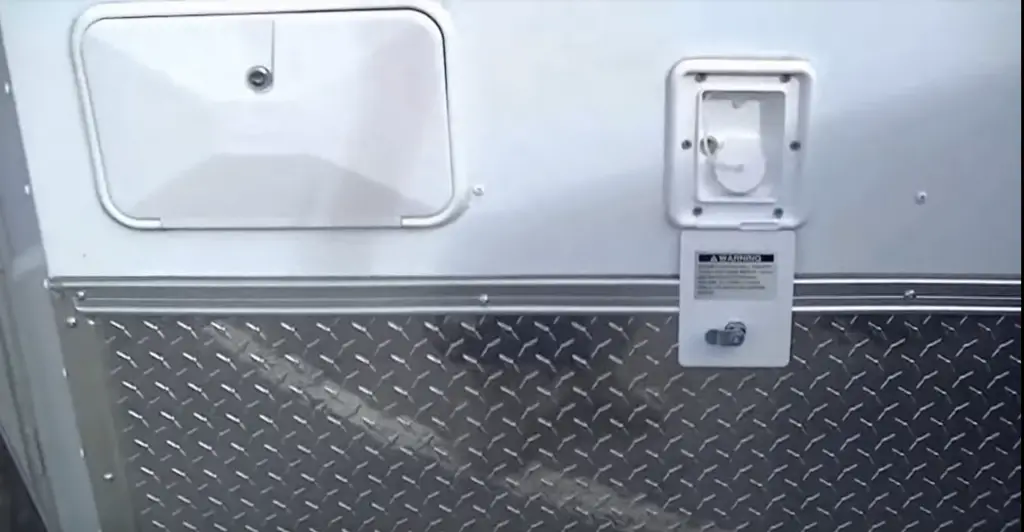 On the inside he built a worktop with a sink into the v-nose area and added a microwave oven.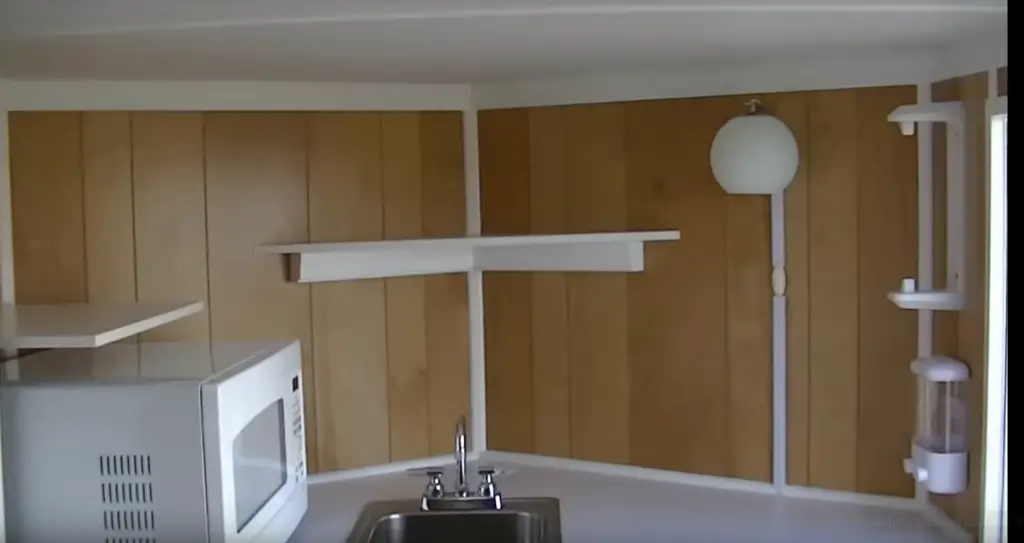 He saved on weight by having curtains under the worktop rather than doors.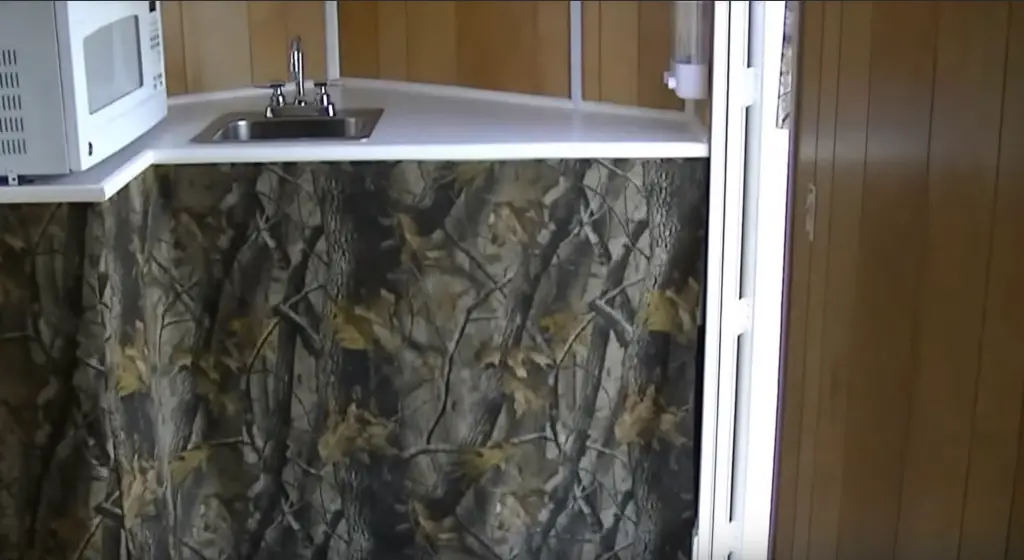 Under the sink, he installed a 42-gallon water tank.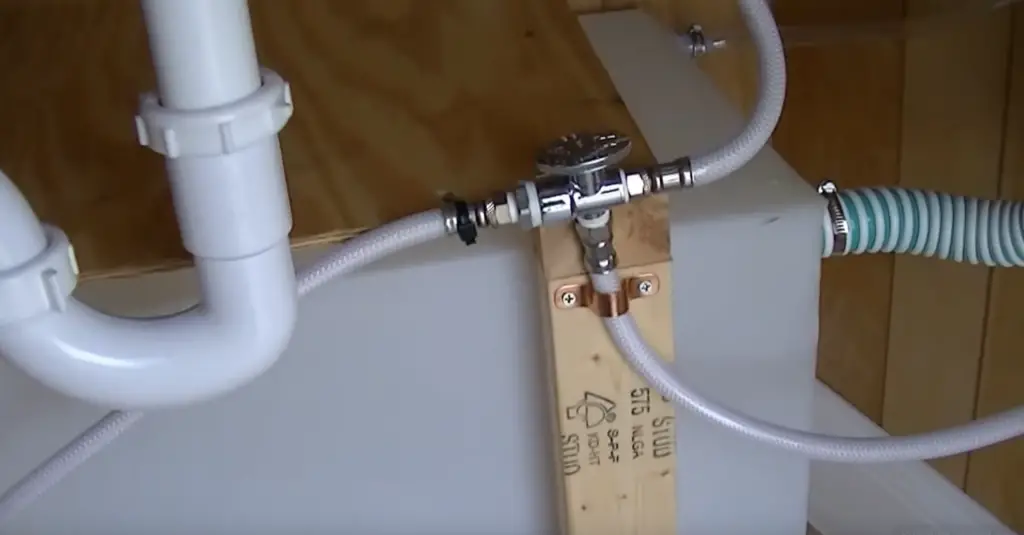 While it doesn't yet have a solar system everything is powered by a portable generator.
It makes a nice little bug-out vehicle that won't attract attention and comes at a fraction of the cost of a travel trailer.
John's Homemade Camper Trailer
John was gifted this old military trailer by a close buddy.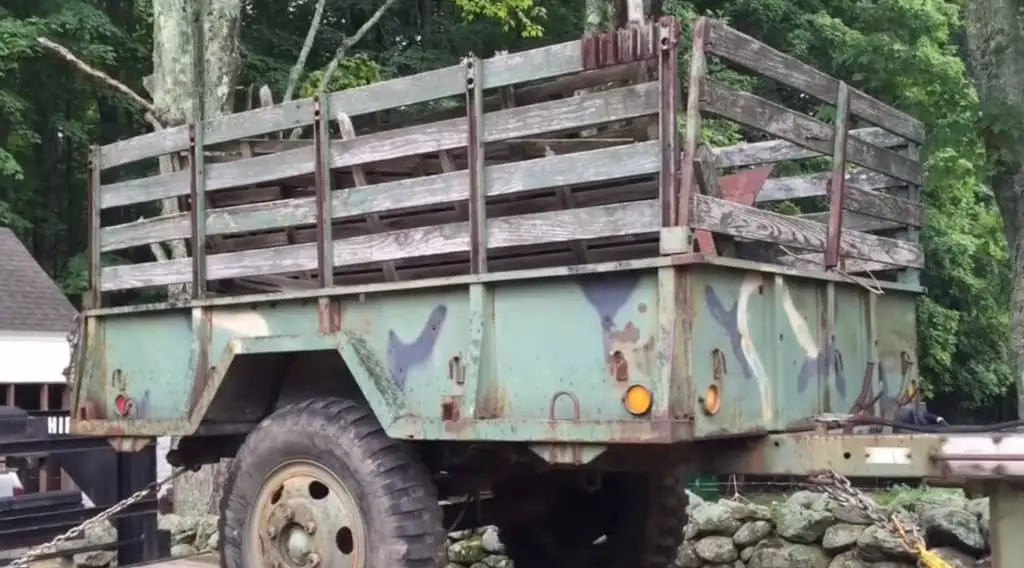 It didn't look like much but John had an inspired plan to convert it to a camper. He loved camping but was tired of putting a tent up and down. This trailer could be the solution.
He repaired some rusty patches, stripped it down, and painted it desert tan.
And built a mini wood cabin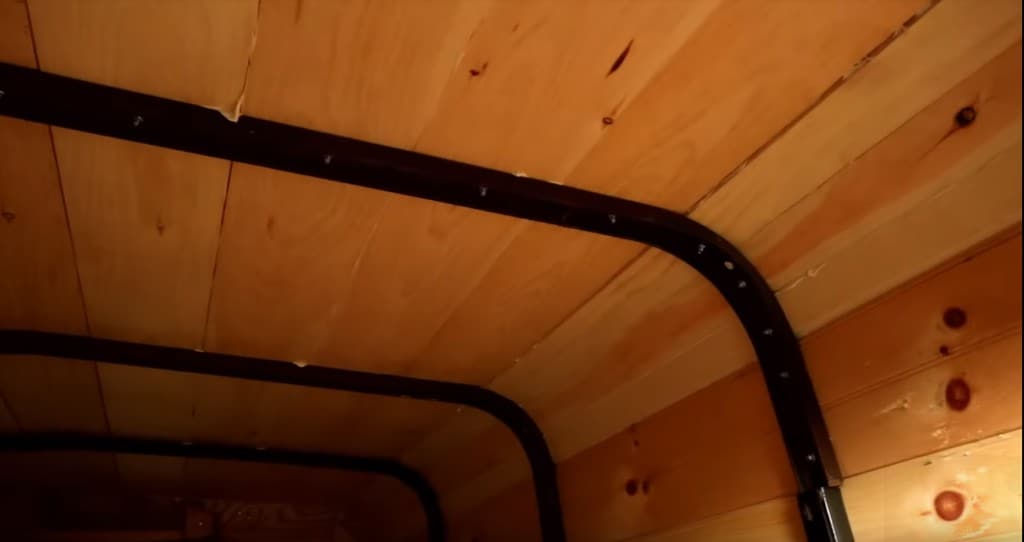 He added an entrance by cutting down an old screen door. And a little window too!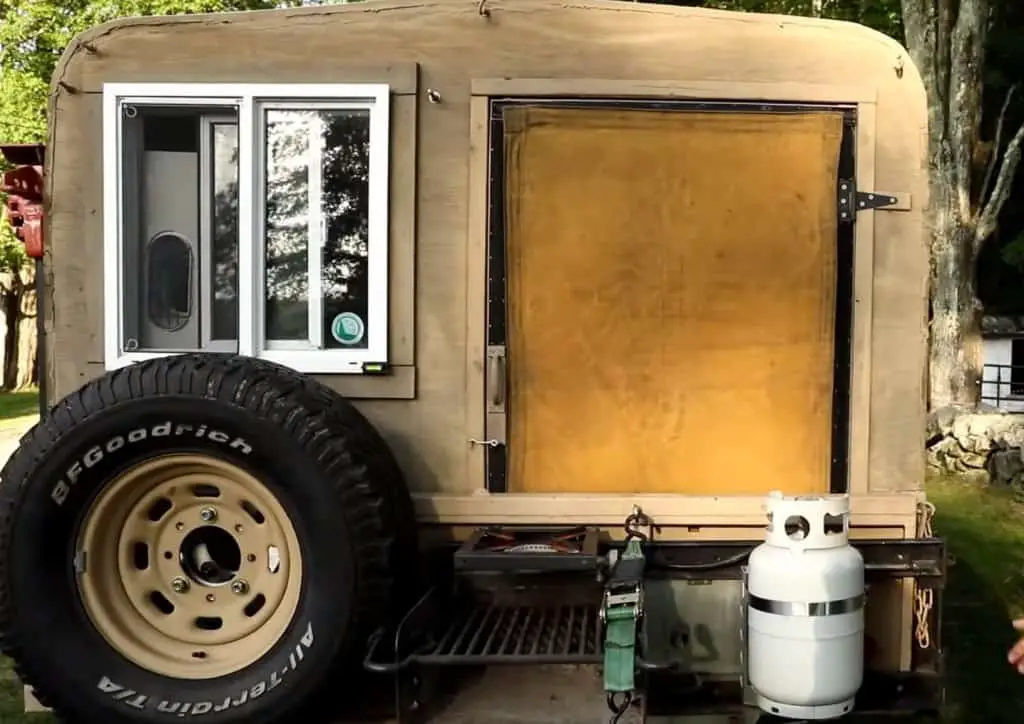 And check out that Pilot Rock grill hooked onto the back.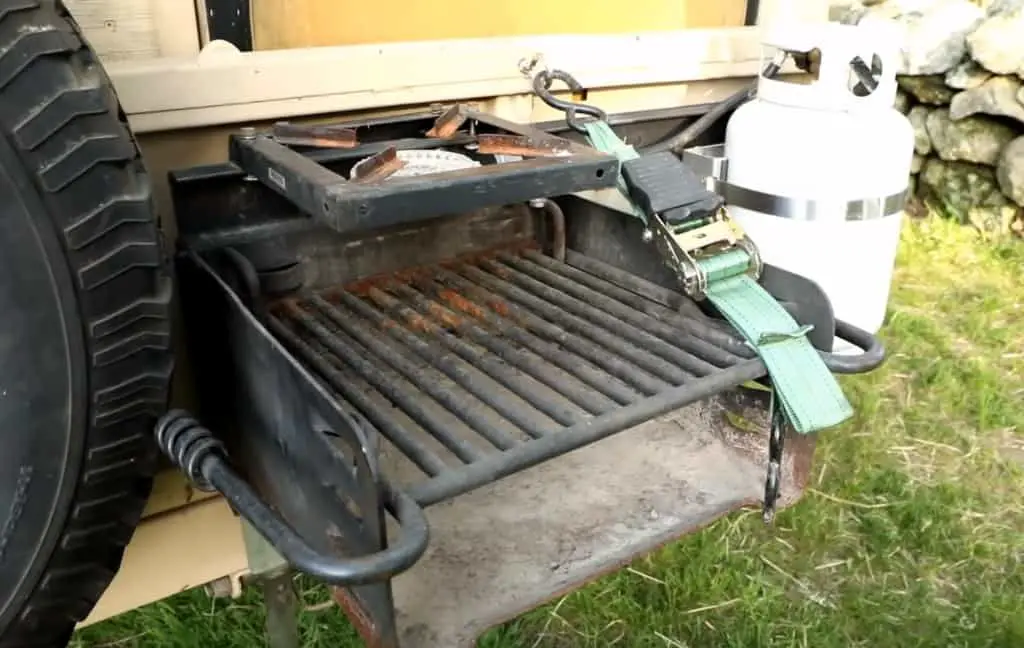 The grill swings out and there is a fold-out table.
And that means you can get access into the trailer using the customized aluminum steps.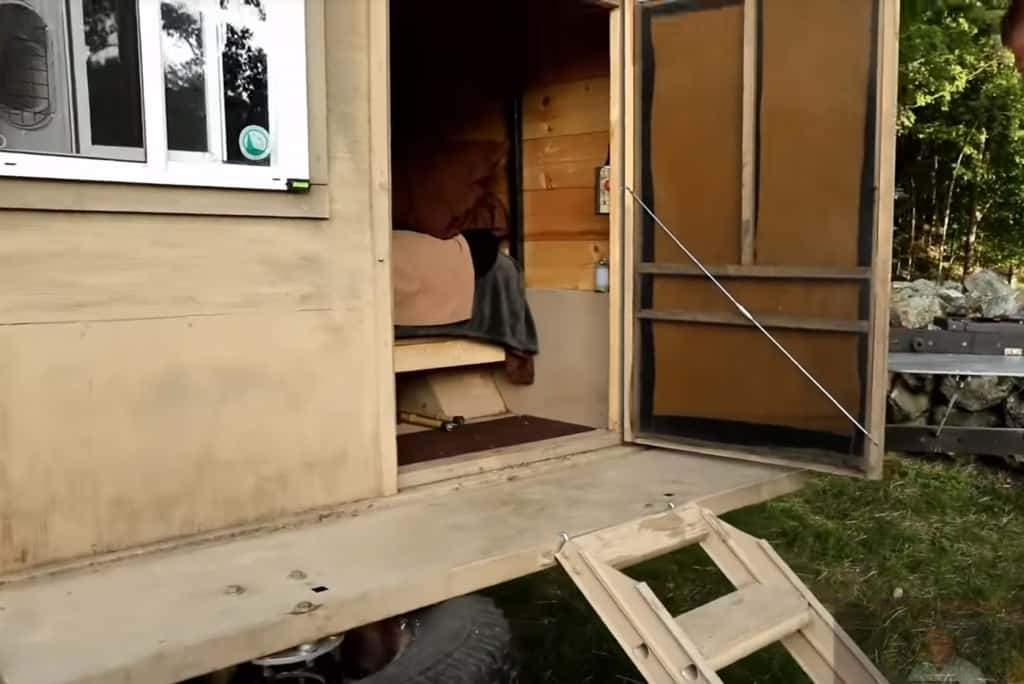 John included an awning to protect him from the sun when he goes boondocking.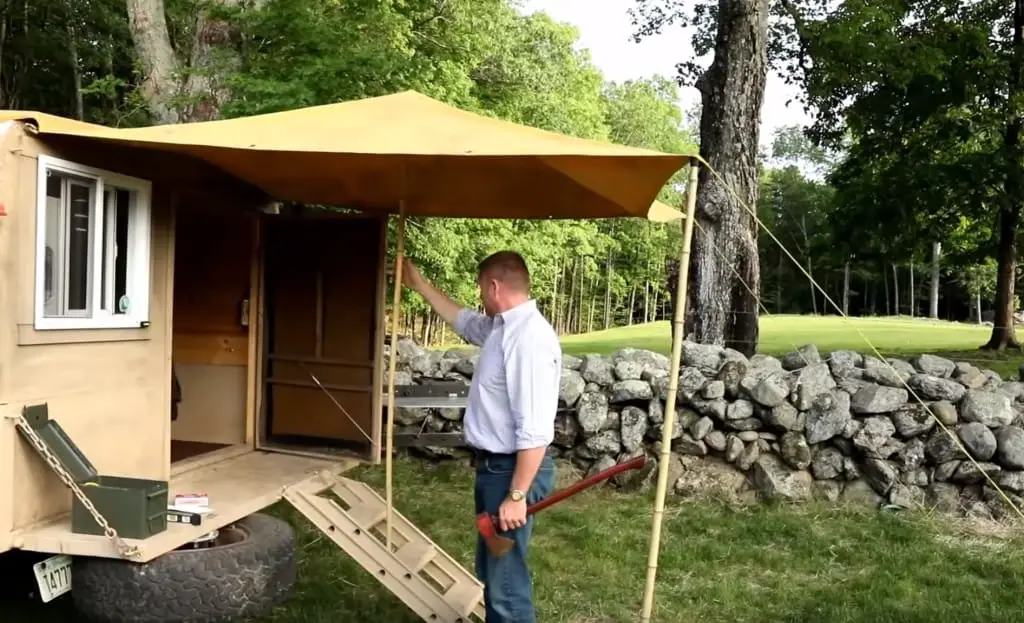 The high ground clearance lets this trailer go anywhere!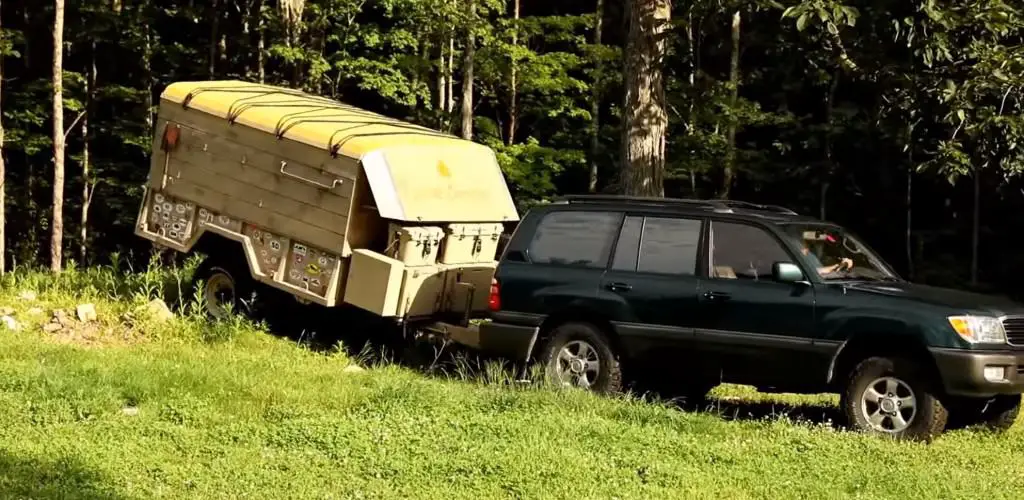 And the all-terrain tires provide extra traction.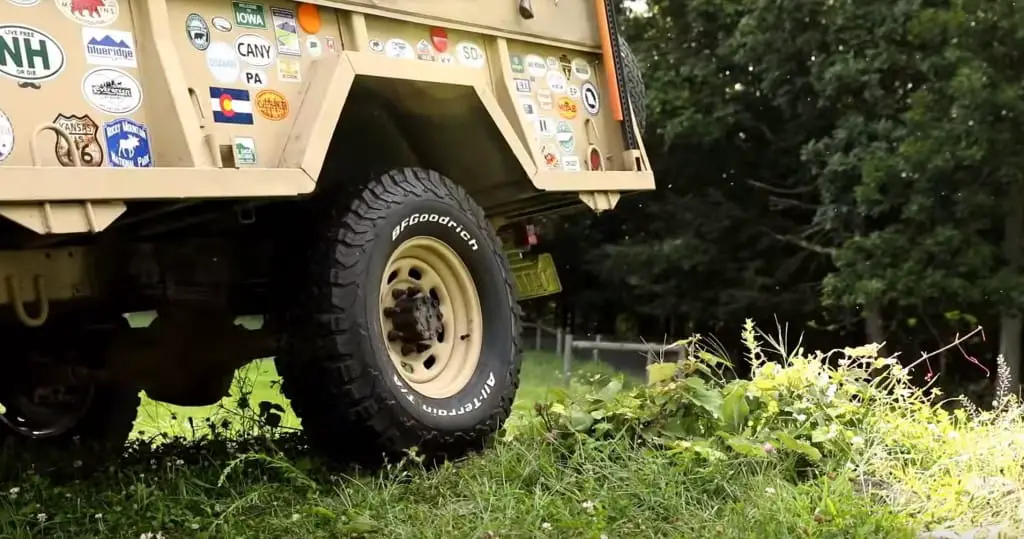 He gets it level by using a farm jack.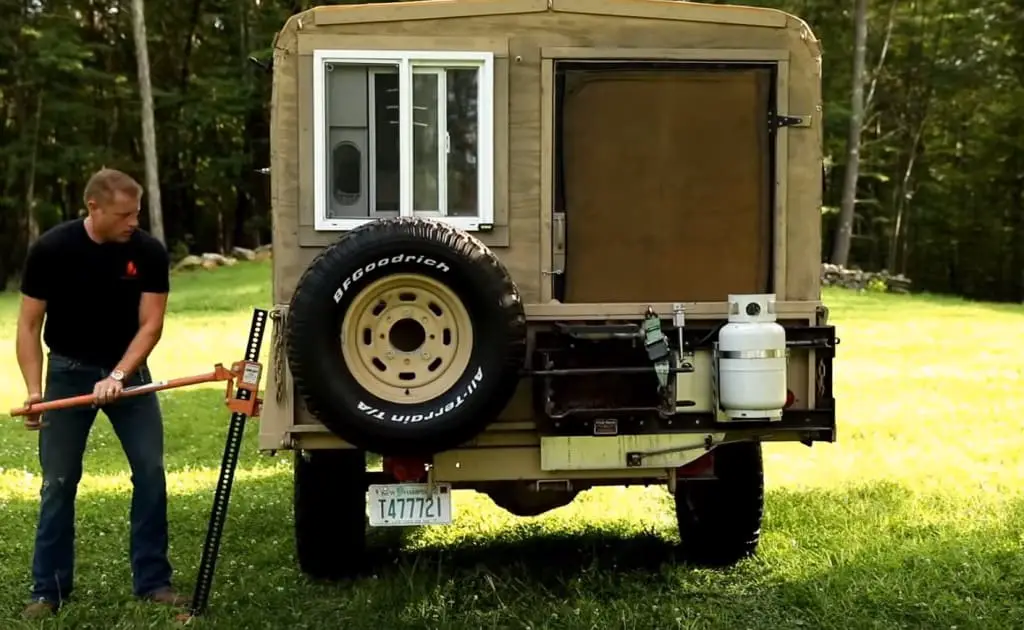 The wind-deflector lifts up to reveal there's another window at the front too.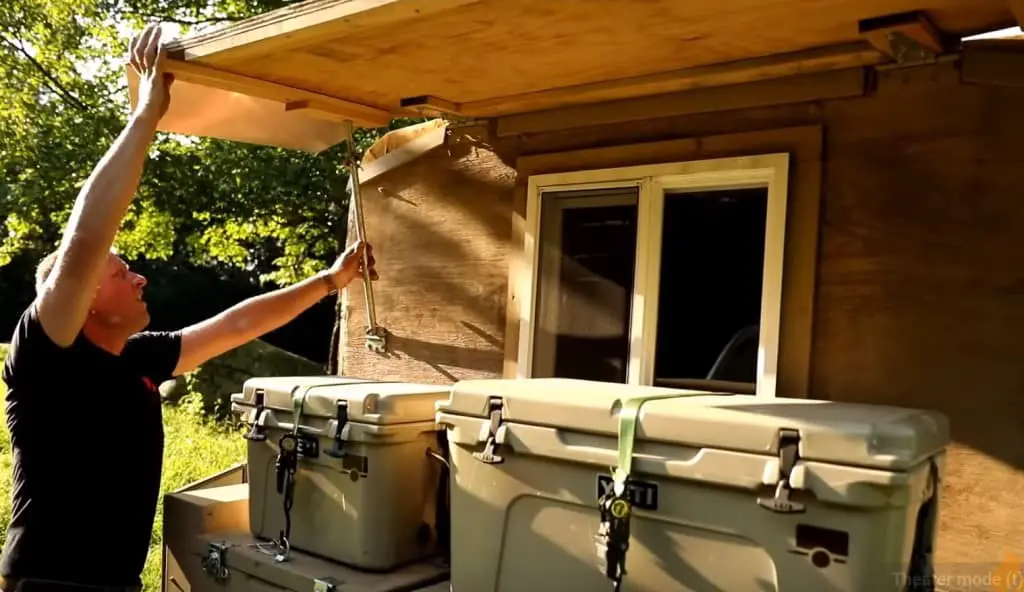 John's homemade travel trailer really is the gift that keeps on giving as he now uses it for many camping trips that you can check out on his Alive Outside YouTube channel.
Reid & Kae's 20 x 8 Cargo Trailer Tiny House
Reid & Kae built their own tiny home inside a utility trailer. You can read about their project in full at Operation: Off The Grid.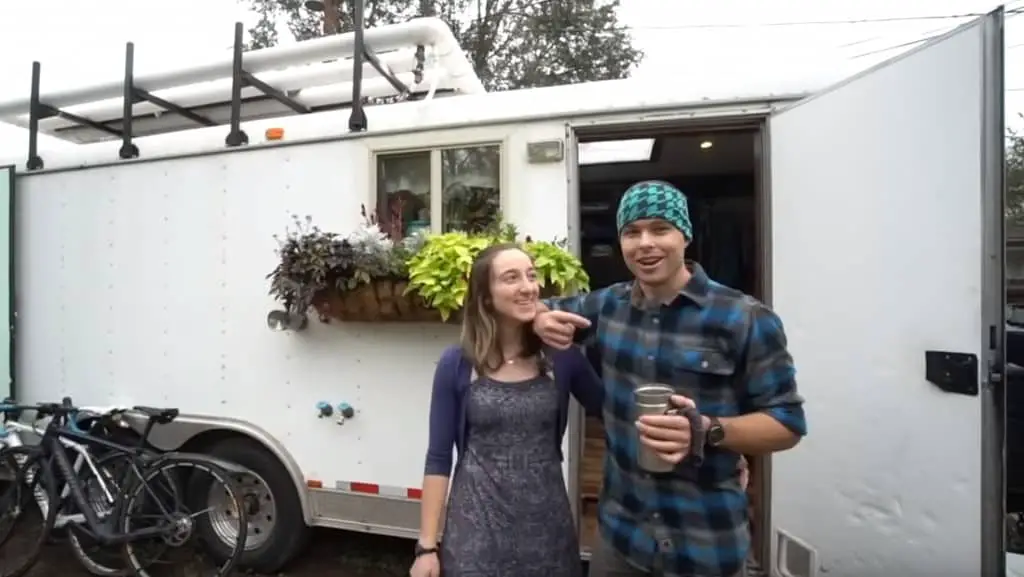 They didn't want to compromise on storage space so they made sure they had plenty of closet space for their clothes.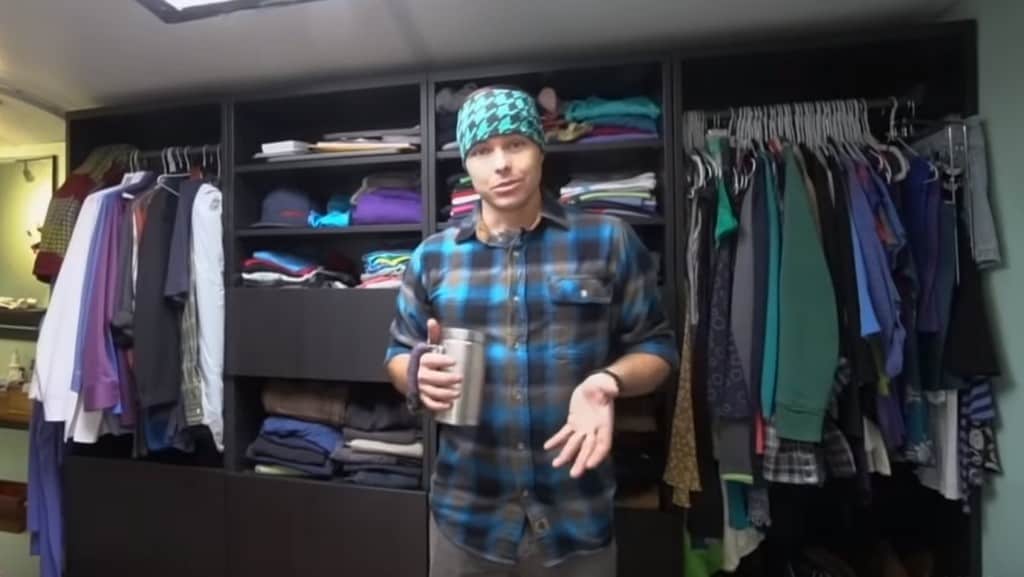 A Sun-Mar composting toilet was installed that uses no water or electricity and can go more than 3 months without needing to be emptied.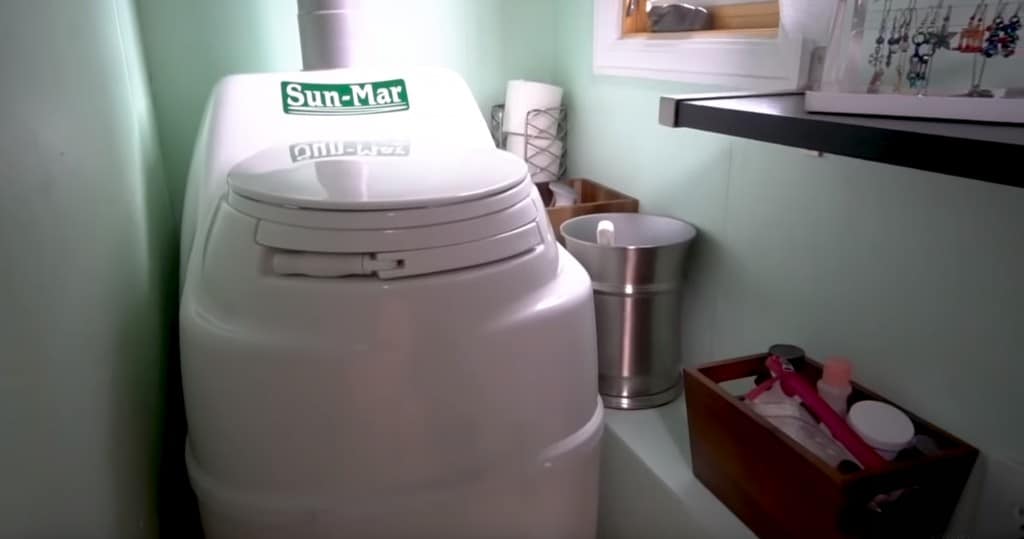 Their kitchen has a full-size cooker!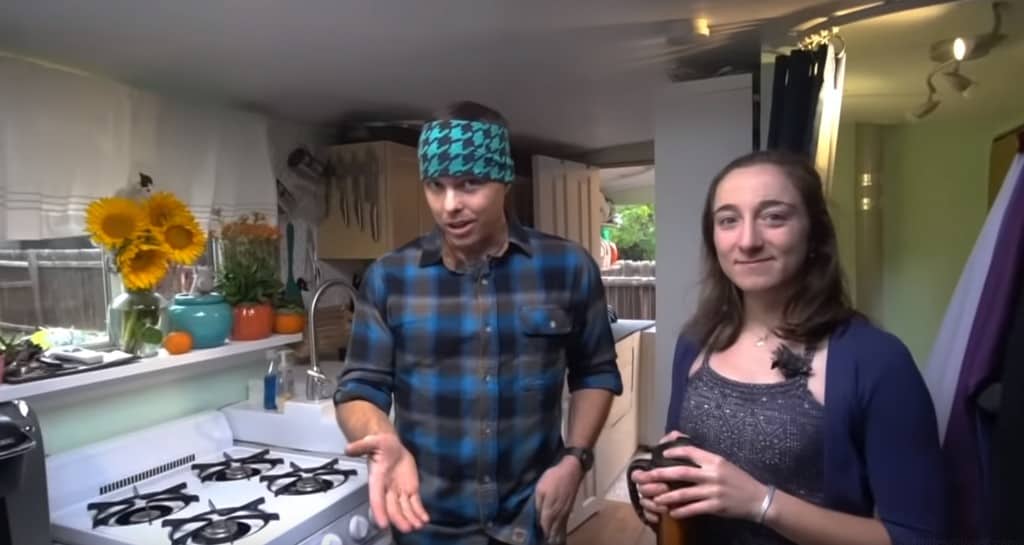 And a microwave!
Many people go through a process of getting rid of possessions when they move into a tiny house. Reid and Kae didn't want to do that. Instead, they focused on finding a way to fit all their stuff into their tiny home trailer. Like this large bookshelf.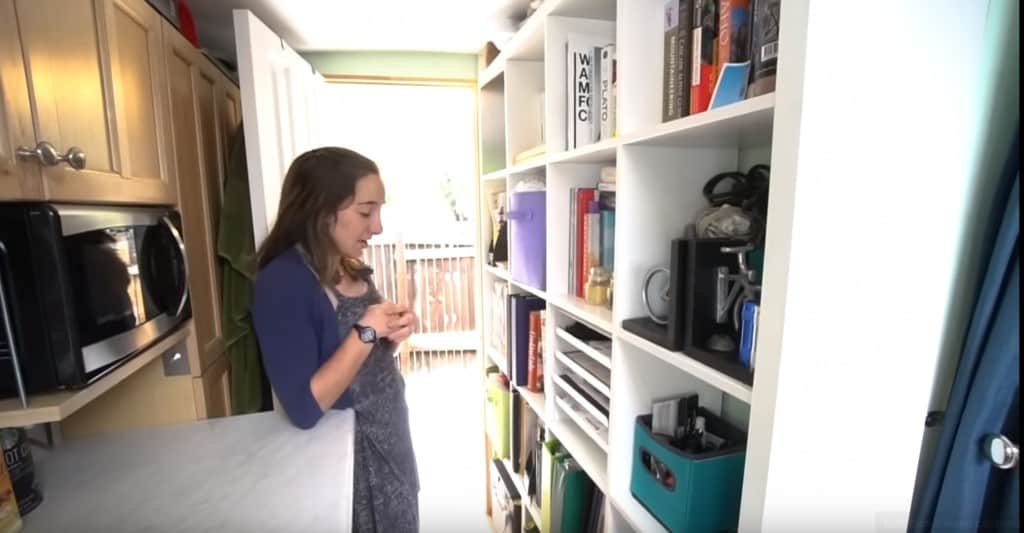 Storage space wasn't something they would ever need to worry about. Especially when around a quarter of the trailer was given over to the overflow storage space… the garage!!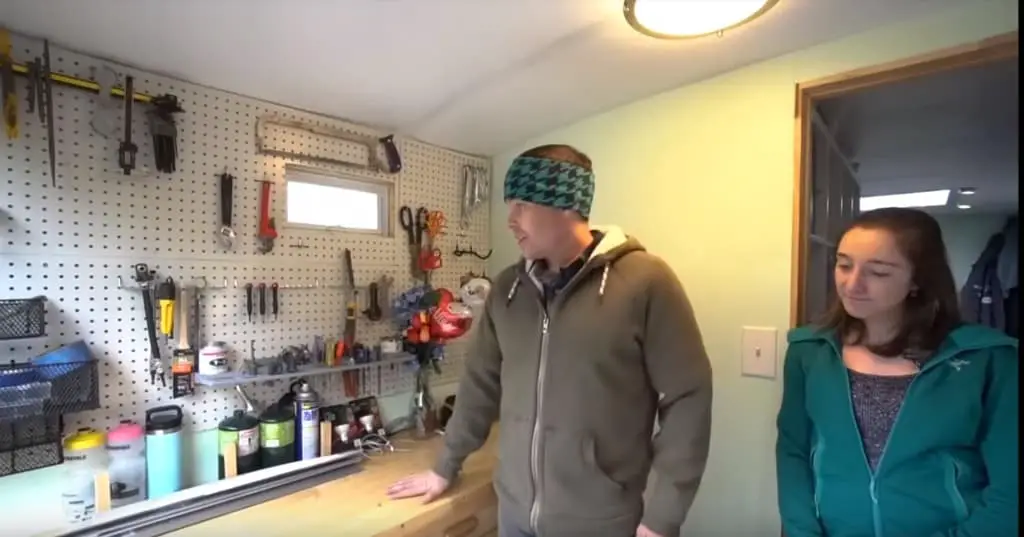 It just goes to show. There are as many different ways to build out a camper trailer as there are different types of people in the world.
There is no best way to do it. Only the best way to suit you!
If you want to build a large cargo trailer conversion then check out Reid and Kae's layout plans below and be sure to visit their awesome website for much more detail.
Mark's 16-Foot Camper Trailer With Outdoor Kitchen
Mark converted a beautiful 16 foot cargo trailer into this camper. The trailer is all aluminum so rust will never be a problem.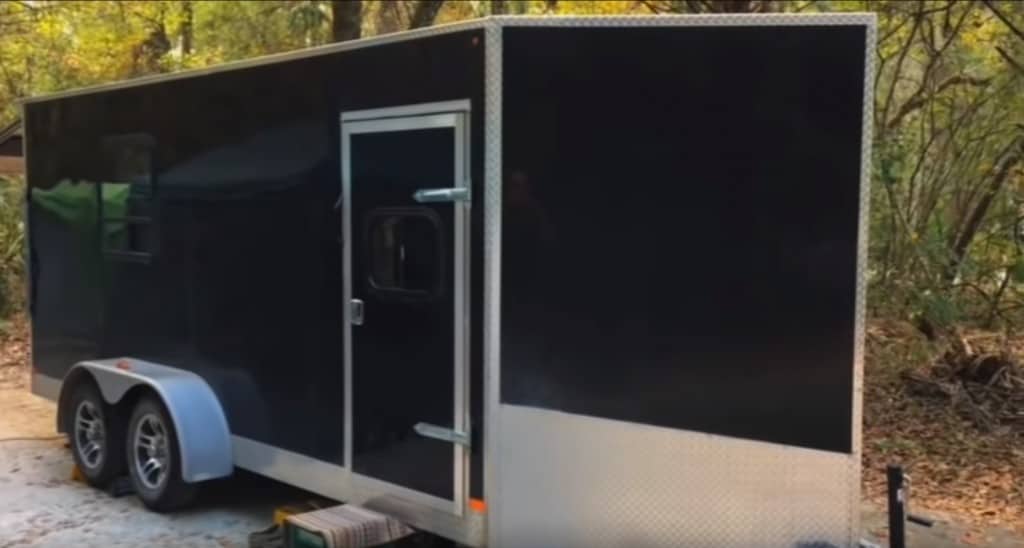 He added a window to the door and a window on the side.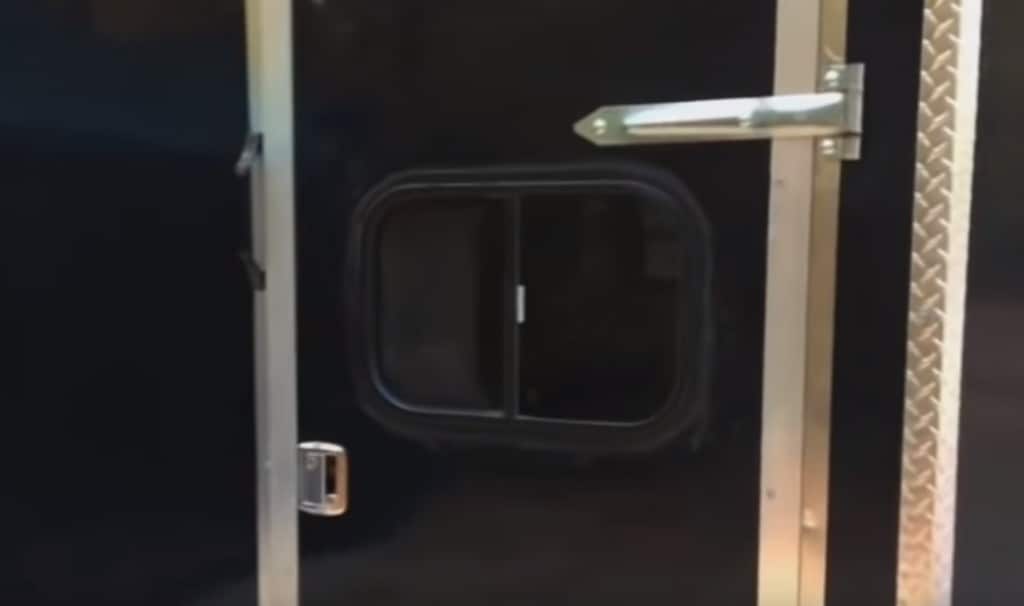 Scissor jacks help to stabilize the trailer.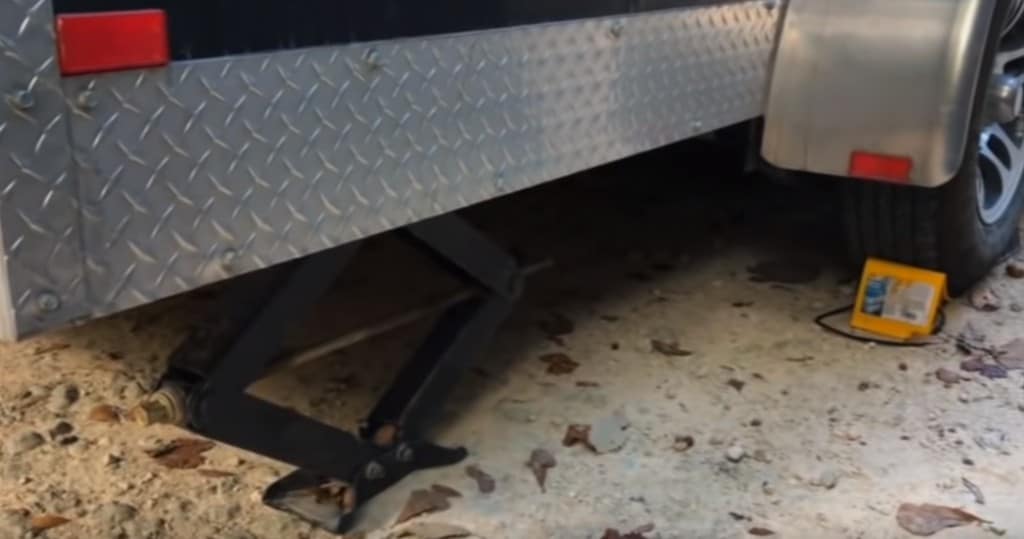 Mark went for an outdoor kitchen and in a clever move welded the back door upside down so that it would form an awning.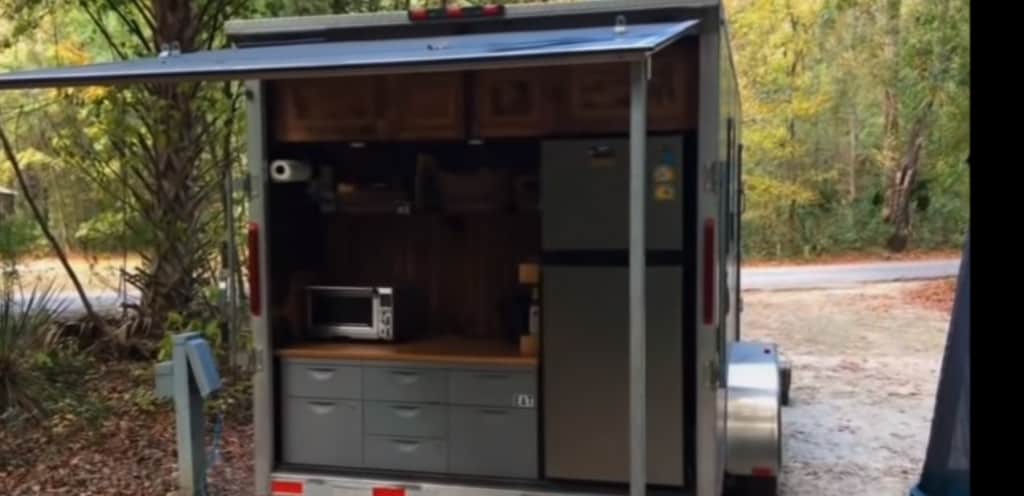 Inside there is a cozy bedroom.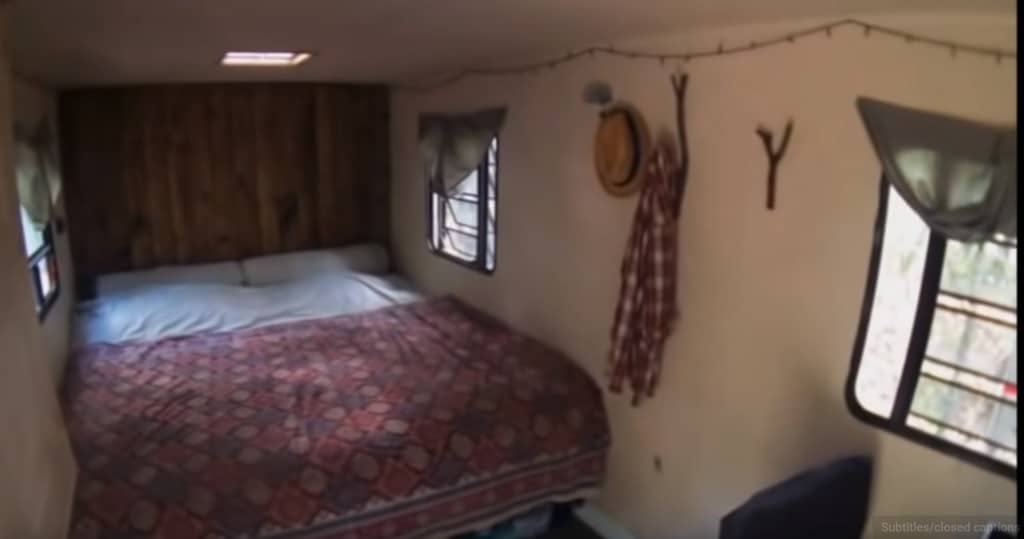 There's also a desk to get some work done or watch a movie.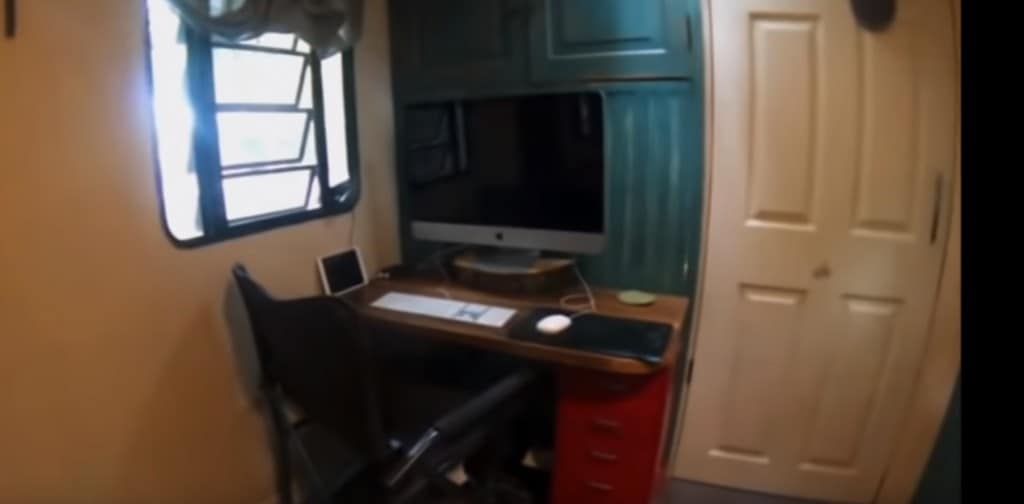 The v-nose area of the trailer contains a handy storage cupboard.
The full family goes on camping trips. Mom and Dad have the luxury of a full-size bed and the kids prefer the adventure of sleeping outside in tents.
All in all, it's a great example of what you can achieve with a camper trailer project. As Mark says on his YouTube channel. It may not be the perfect design for everyone but it works for him and his family.
Chasin' Simplicity's 8 x 5 Mini Box Trailer Camper
This mini box is a great example of a lower budget no-nonsense cargo trailer project.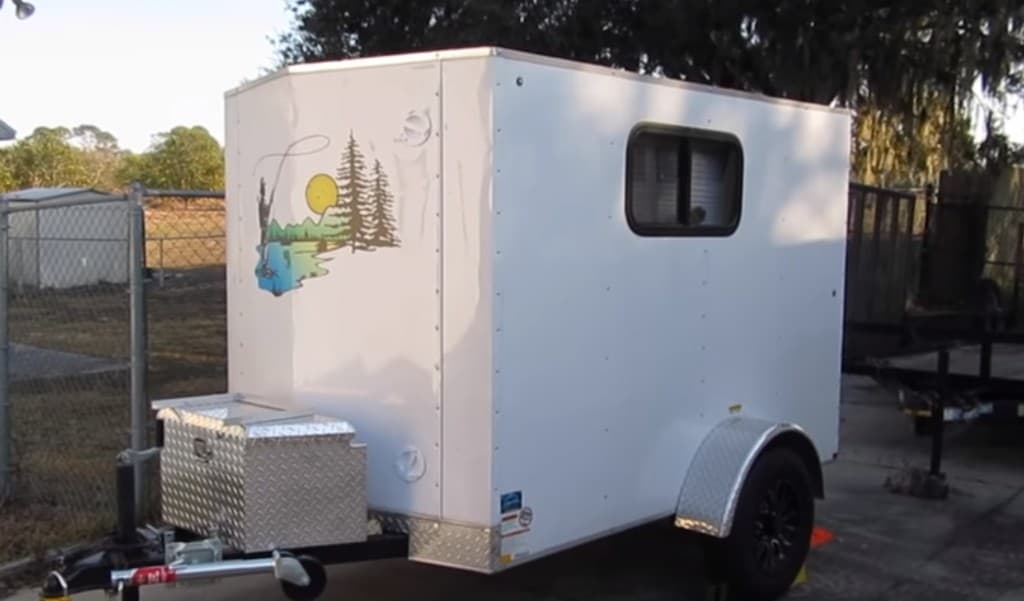 No space is wasted. It has a storage box built onto the frame.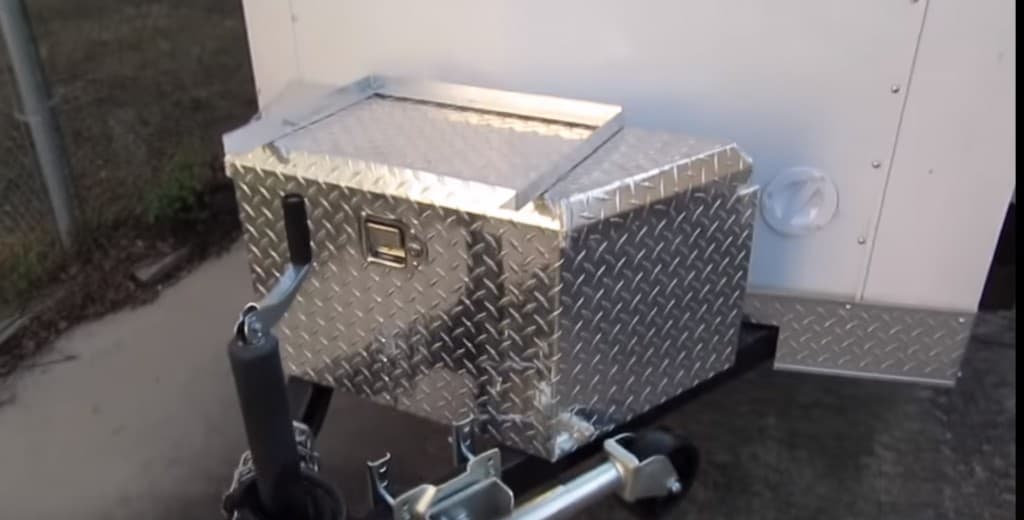 There's a drop-down table on the inside of the rear door.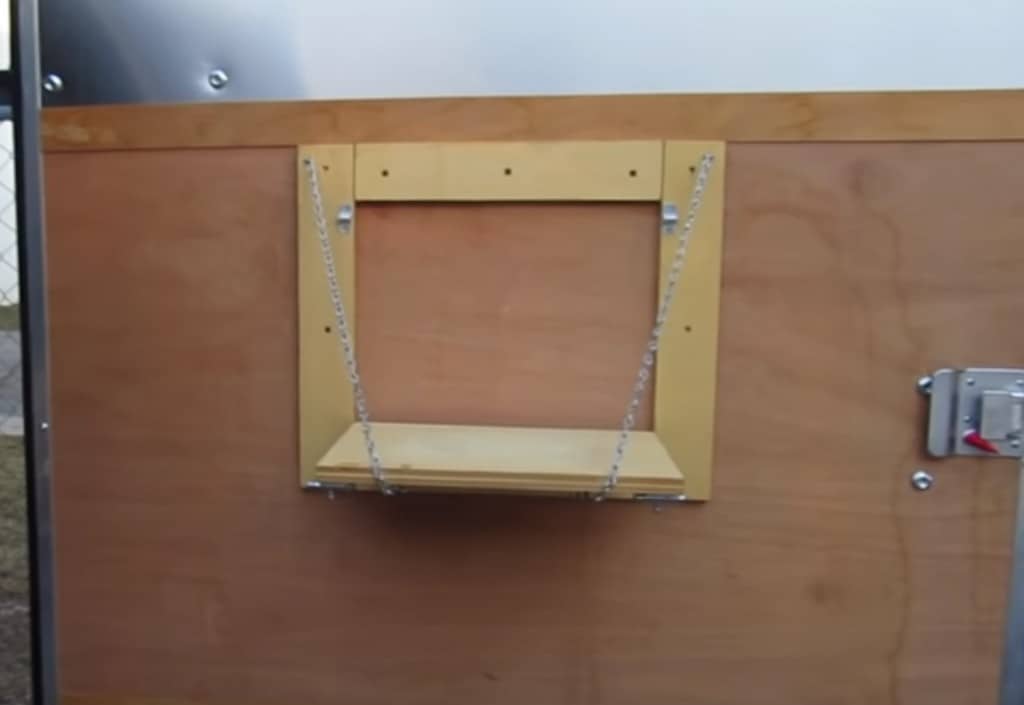 The main job of a camper is to give you somewhere comfortable and safe to sleep while on the road. It's clear that this mini RV has its priorities right! Most of the space inside is taken up by a large comfy looking bed.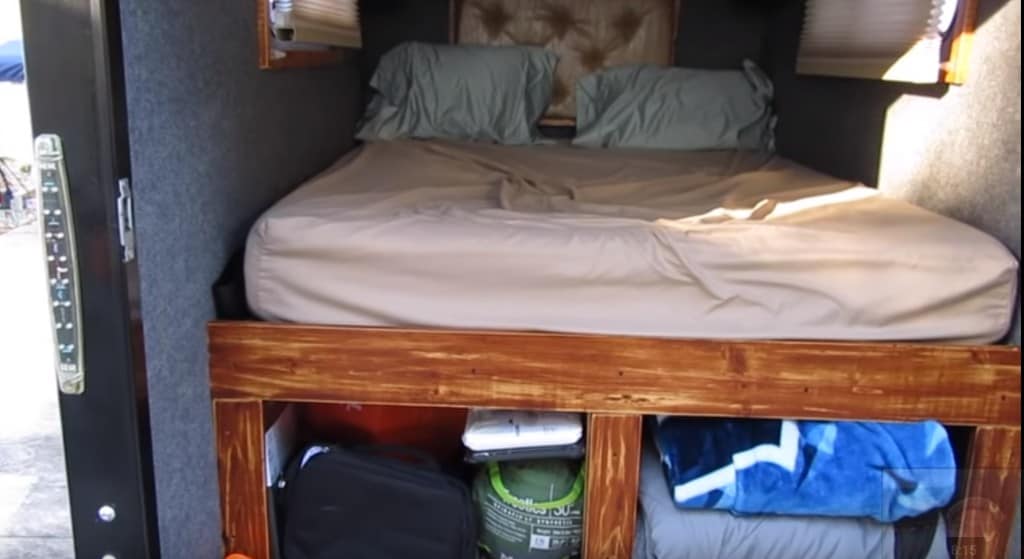 Lighting is kept simple with magnetic battery operated lamps.
And there is a roof vent to make sure it doesn't become too stuffy.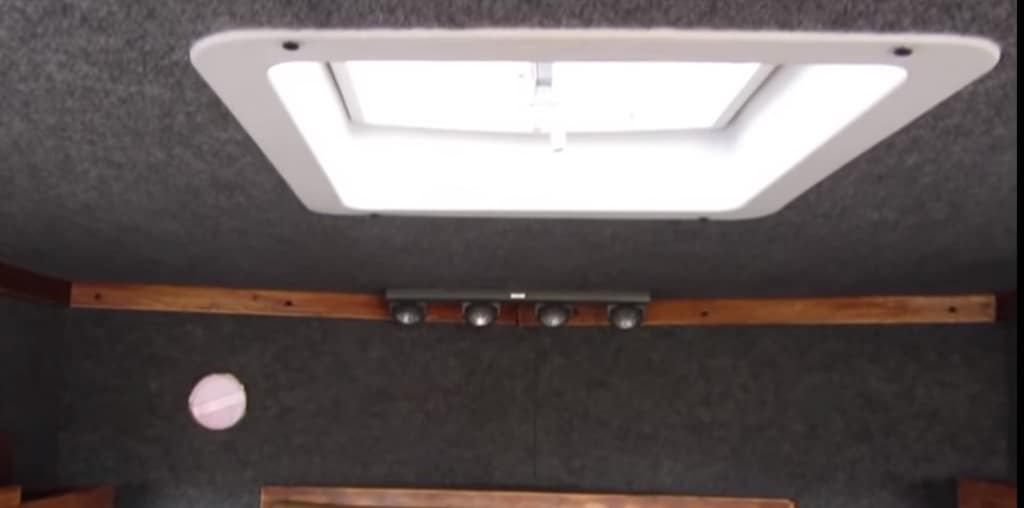 Keeping it simple is what the YouTube channel is all about and this camper is fit for purpose!
Mark & DeAnna's Enclosed Trailer Camper Conversion With A Bathroom & Shower!
From plain and simple to the luxury you can build a trailer conversion project just the way you want it.
On the outside this cargo trailer doesn't stand out too much. But wait until you see the inside!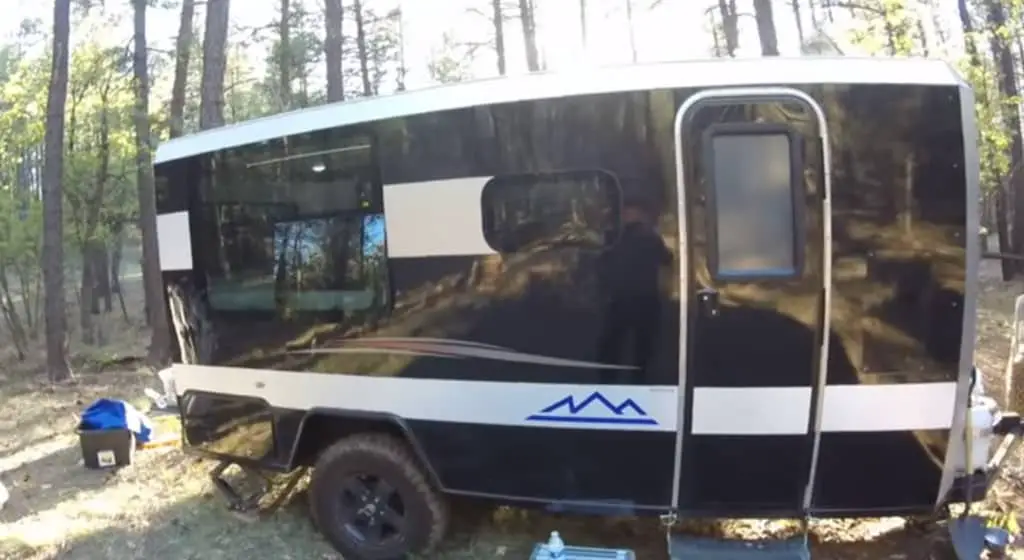 They have a bathroom with porcelain potty and a hot water heater.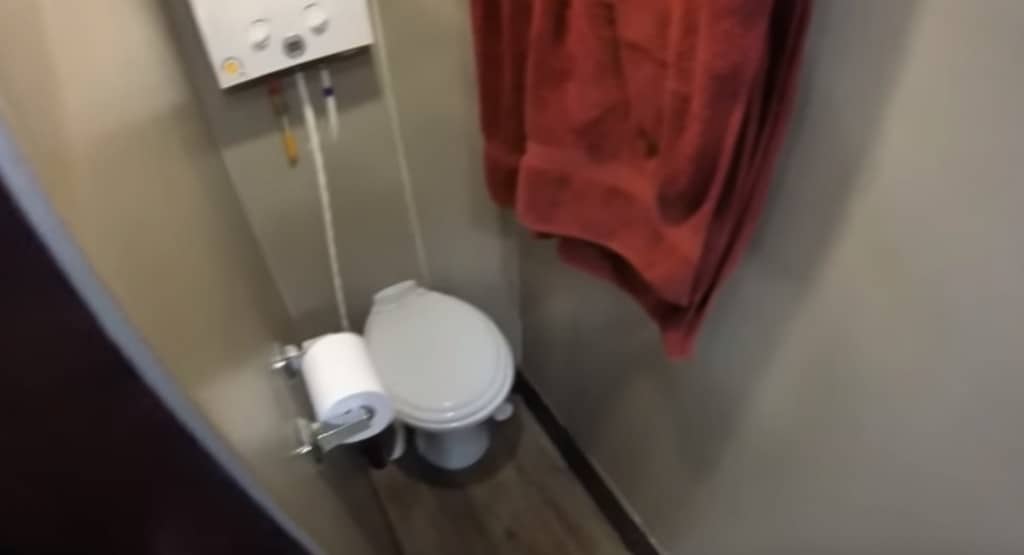 And a shower!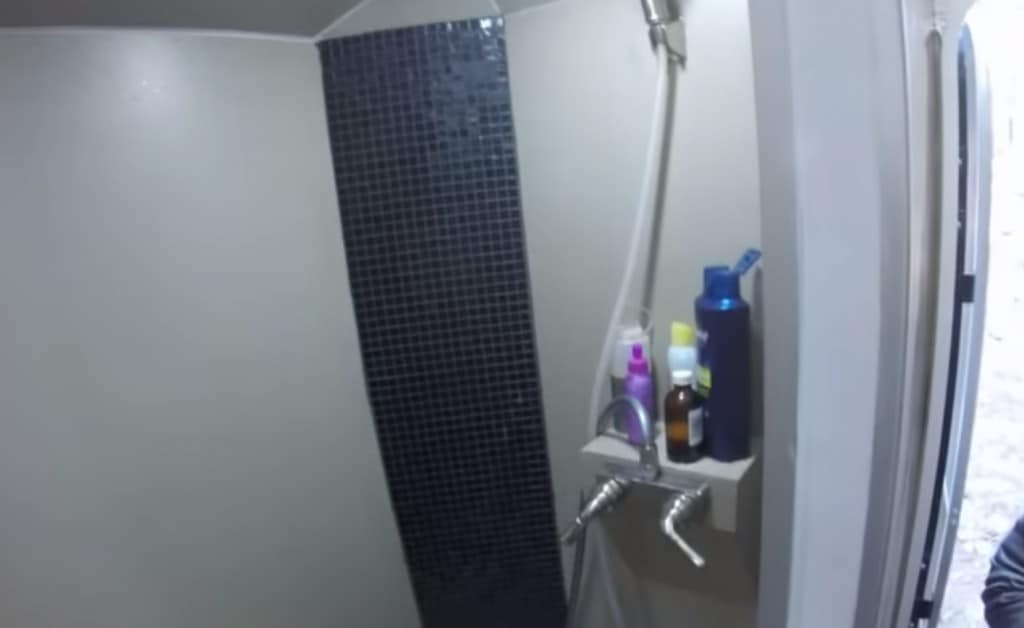 The mini-kitchen has a stove, a fridge, and a stainless steel sink.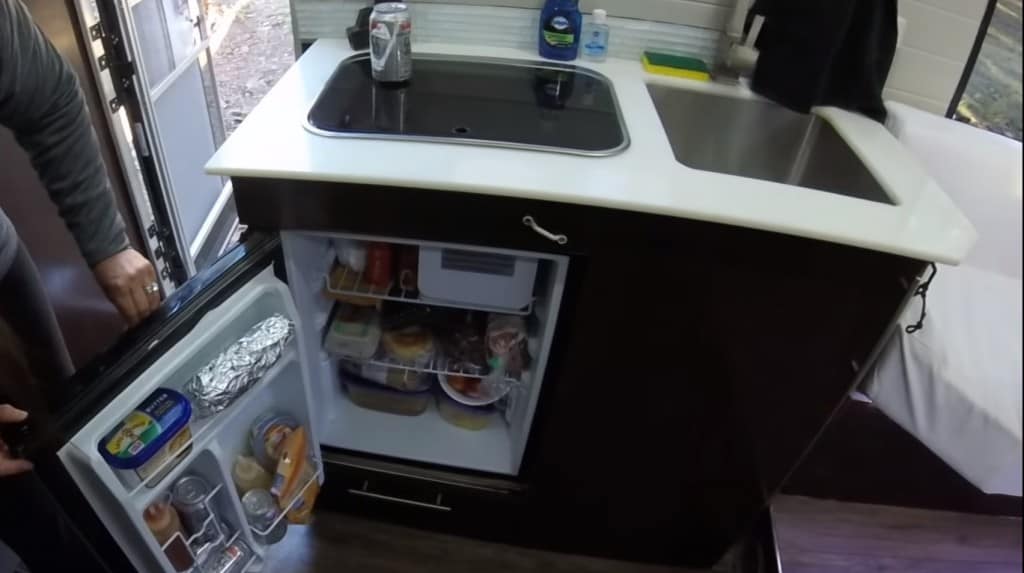 But why stop at 1 fridge if you can have 2!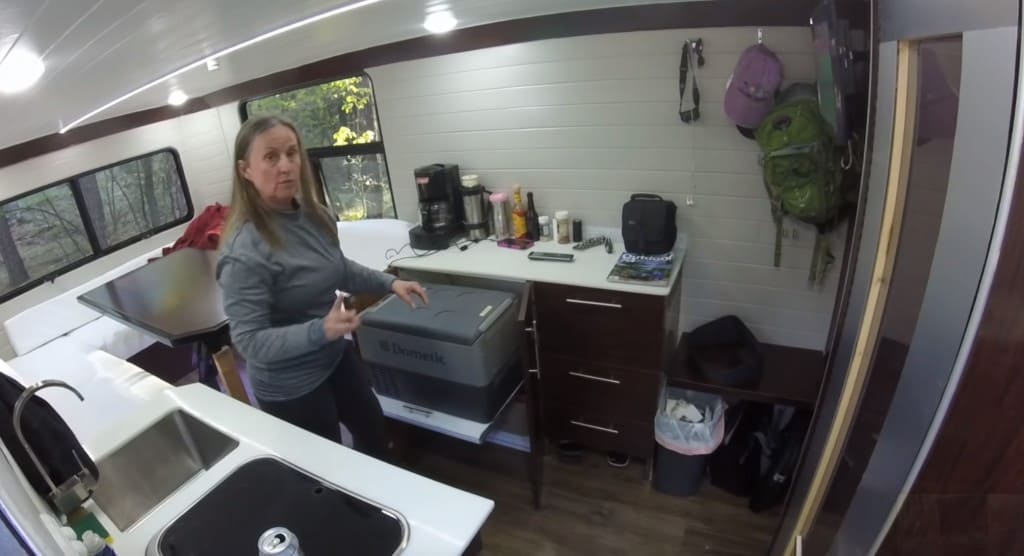 The rear has a bedroom/dining/D-shaped lounge area that's a great use of space. You've got to love those large windows.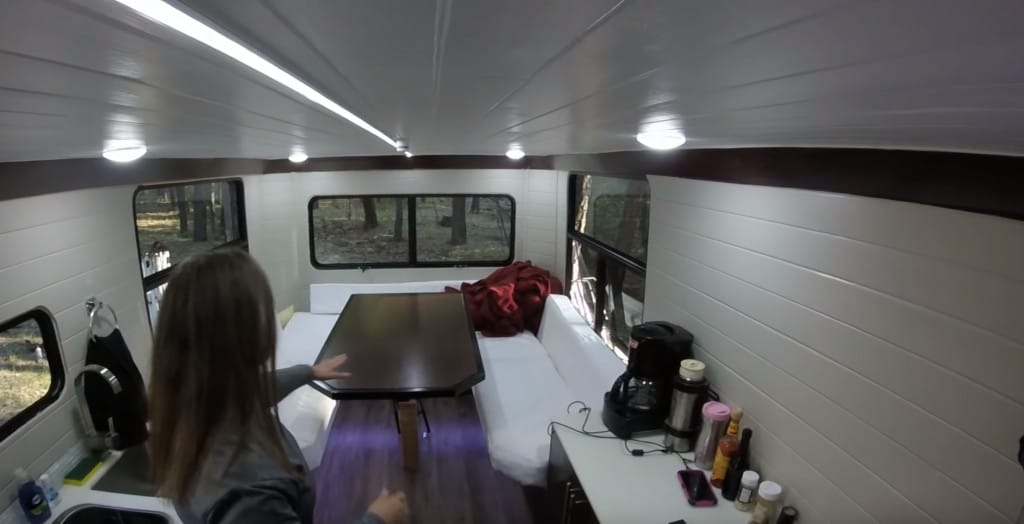 The materials for the build cost just $6200. Amazing when the result is a beautiful home that you could live in full-time if you wanted to.
If you like this style you can get more information on this camper over at Mark and DeAnna's YouTube channel. They are a really fun couple and their tour is very informative.
Brian Rogers 8 x 16 Cargo Trailer To Camper Conversion
This build is one of the best out there. Brian Rogers is a skilled craftsman and cabinet maker. He's also built-in many clever hacks to make his RV life better.
Brian started with an empty enclosed cargo trailer: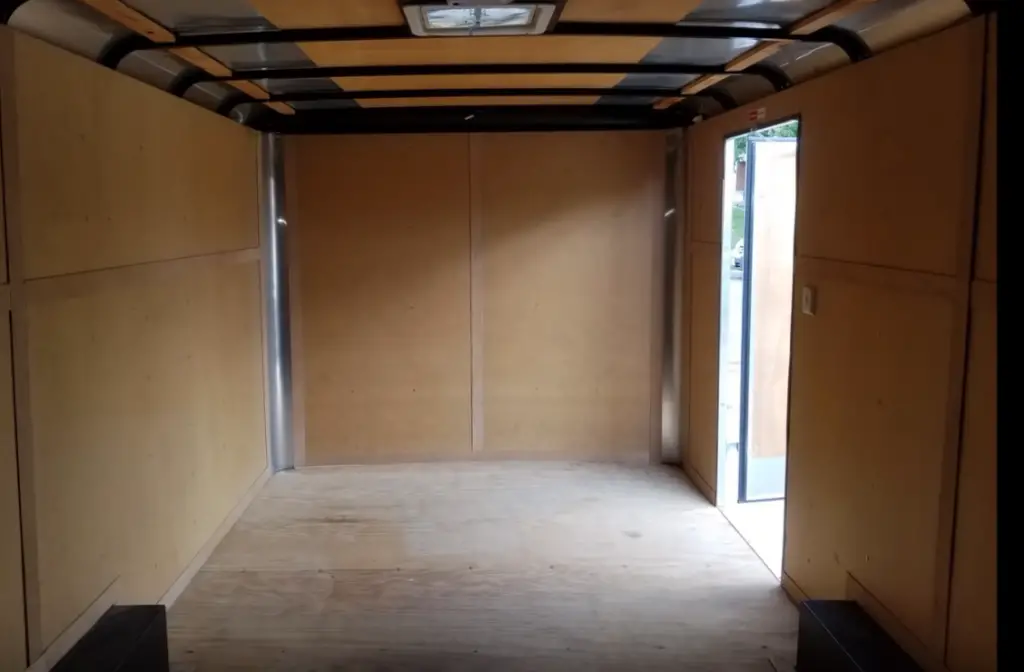 Firstly, by simply adding larger tires Brian increased the clearance. This means he can go places a travel trailer couldn't.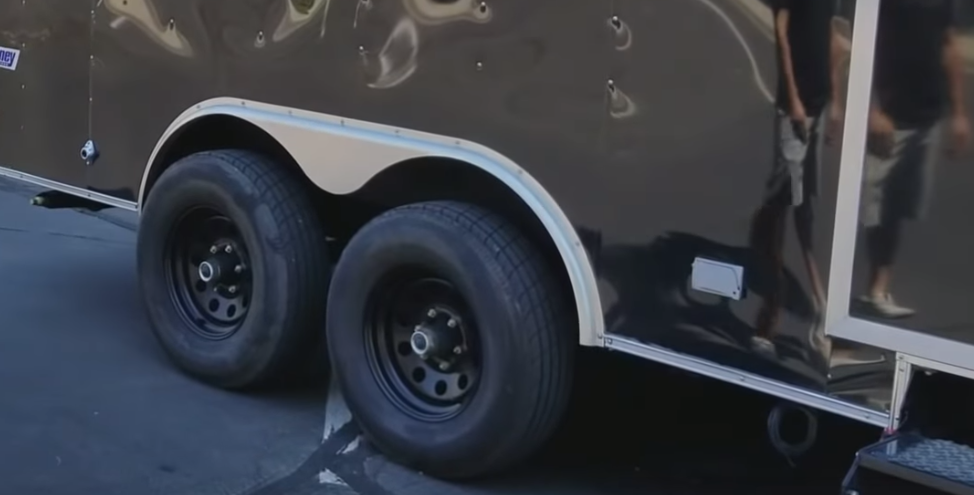 He cut holes in the side and welded a steel frame to support the windows.
The floor covering was just sheet vinyl glued down. Brian also made use of floor space to create a clever floor storage area.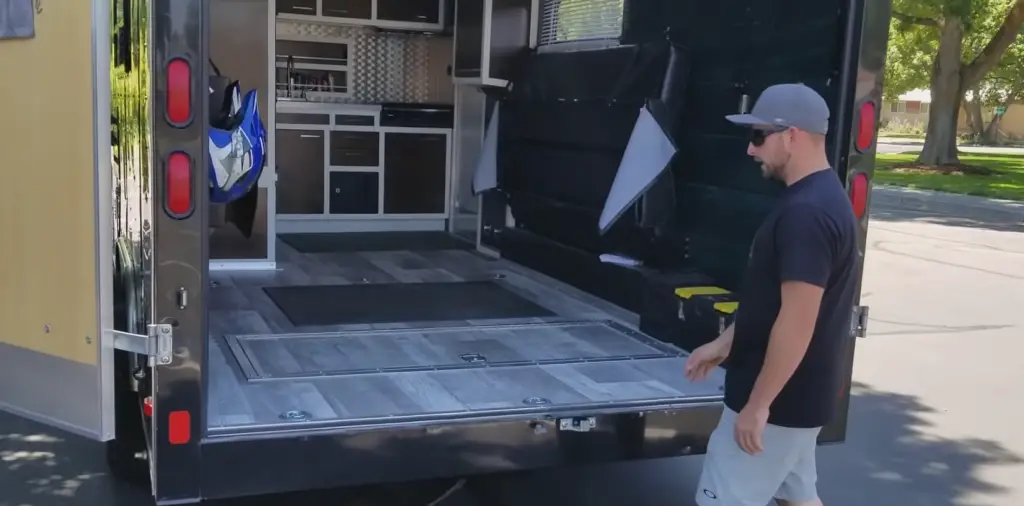 The blue-stained beetle kill pine on the walls is very distinctive and looks great. You never see that creativity in a commercial travel trailer.
In an RV it's the small things that help make your life easier. These folding hooks from IKEA are fantastic. When you are in an RV keeping things secure when you drive is a challenge.
The folding hooks look nice and clean and out the way when not in use. But when you come from the store with the shopping bag you'll have a temporary place to hang your bag before you get back to your camp.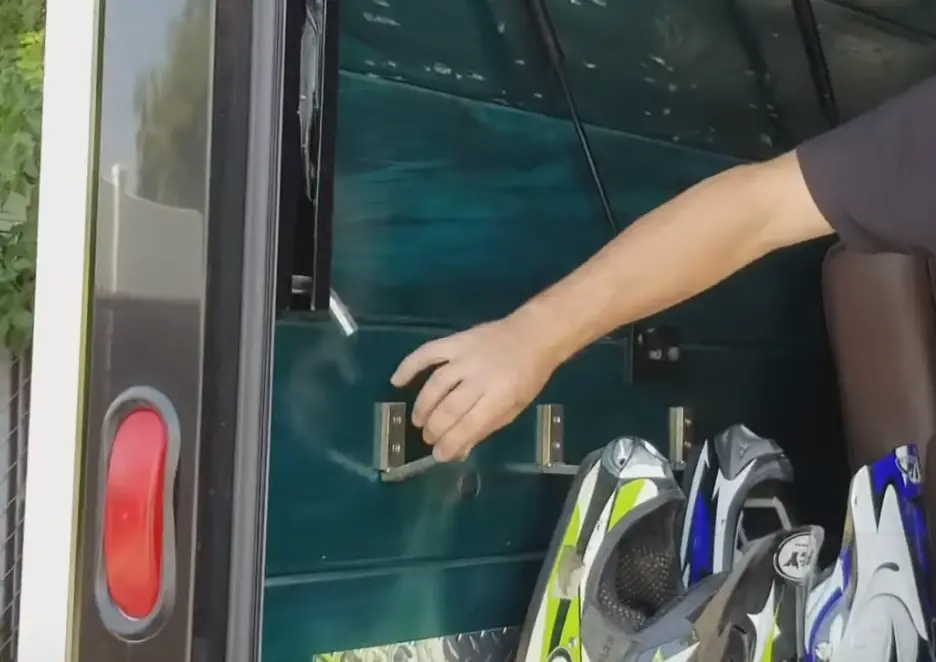 His drop-down ceiling bed is one of the best RV beds that I have ever seen period. Again it's gas shocks that push the bed up out the way when it's not being used.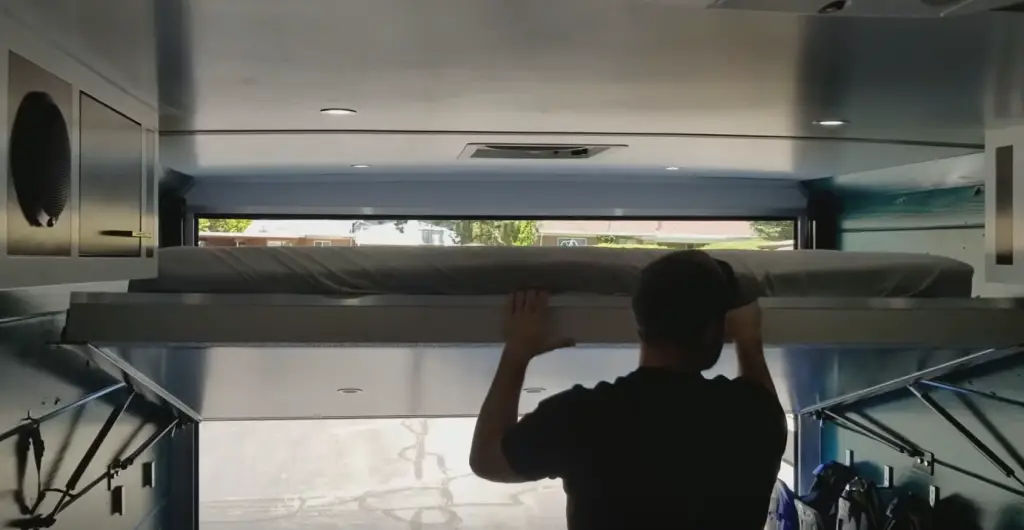 In the ceiling, there is a fantastic vent fan to help keep the trailer fresh and cool.
There are 2 sofa beds that flip up against the wall so that the trailer can still be used to transport cargo.
His Bluetooth stereo adds a touch of luxury and also the folding drop-down ceiling mount for the tv a great way to use space.
Brian added a 13000 btu air conditioner in the ceiling which cools the small area of travel trailer effectively.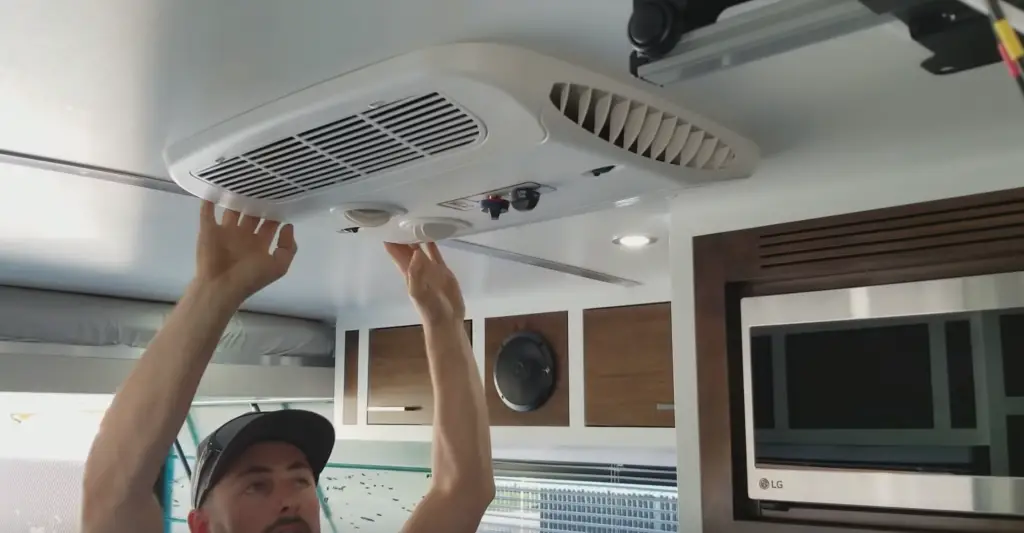 He's got a separate toilet and shower room too.
His kitchen area has a fridge, microwave, stovetop, sink and even a spice rack built into the wall. The poplar and alder cabinets are stunning.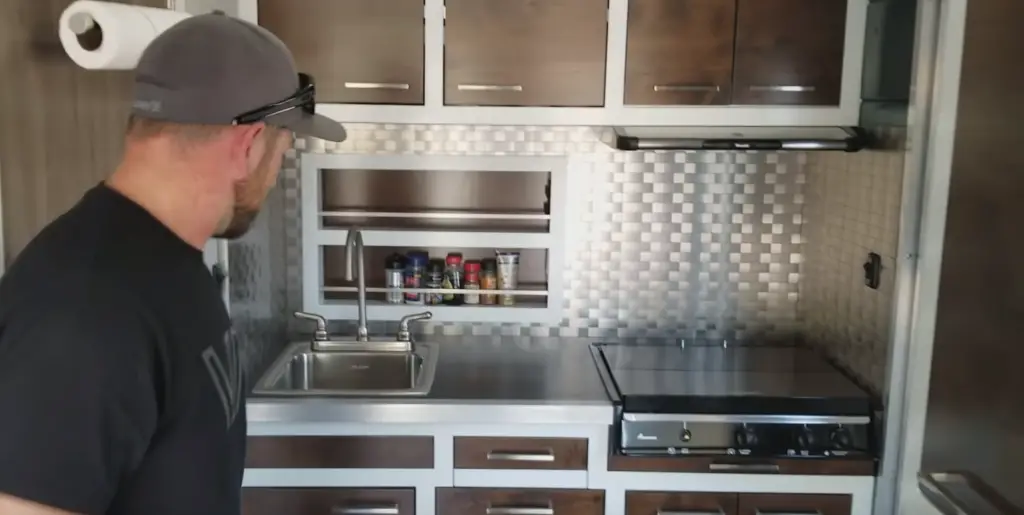 The end result is a cargo trailer conversion that is equal to a luxury travel trailer but built for a much smaller budget.
Brian really went to town with this build though using quality materials throughout.
All in, he spent around $13500 including the trailer. By using his own skills and labor he was able to create a luxury travel trailer by converting his 2006 box trailer.
Bo's 6 x 14 DIY Trailer Camper Cabin On Wheels
Bo went for a cantina in the rear to facilitate outdoors cooking. When you see where he's parking up you can understand why.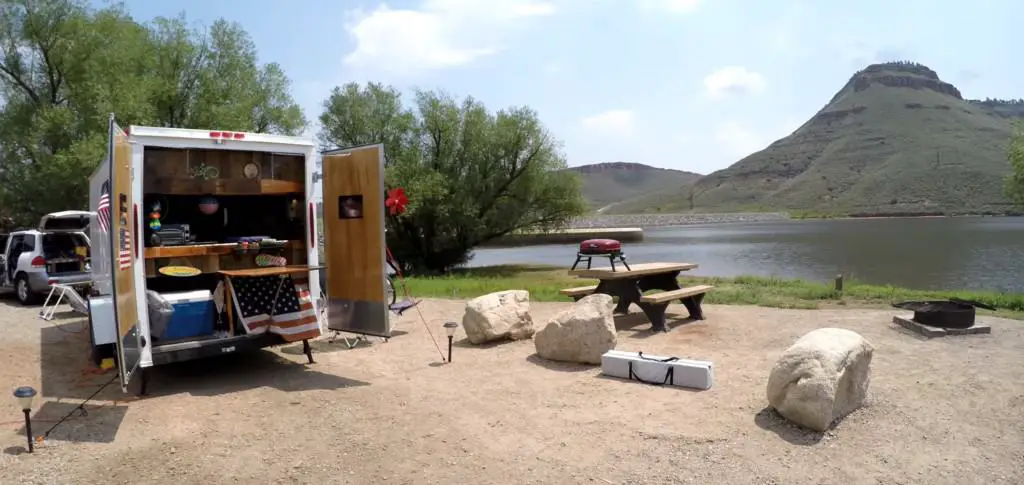 He travels with an instant sun-shade to help make the best use of the outdoors.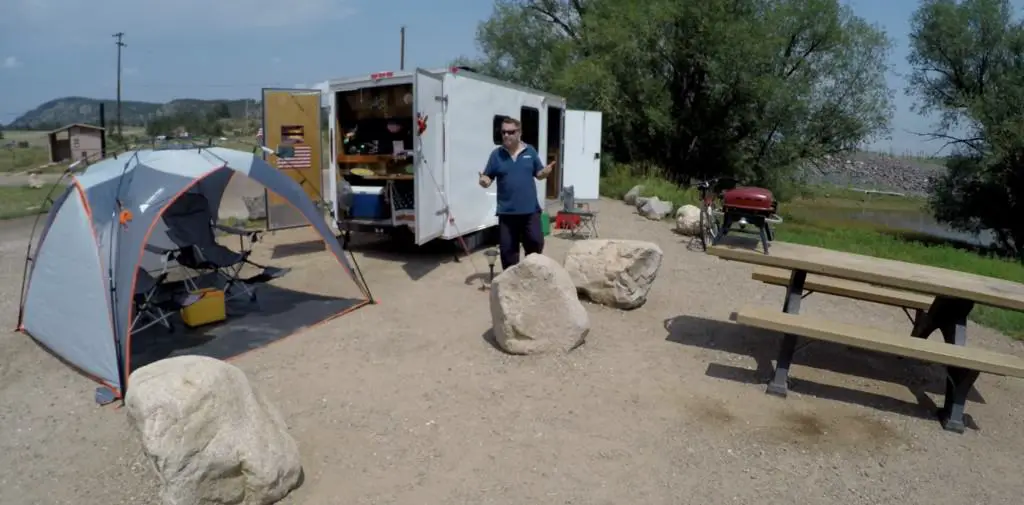 But he also built a mini kitchen inside too.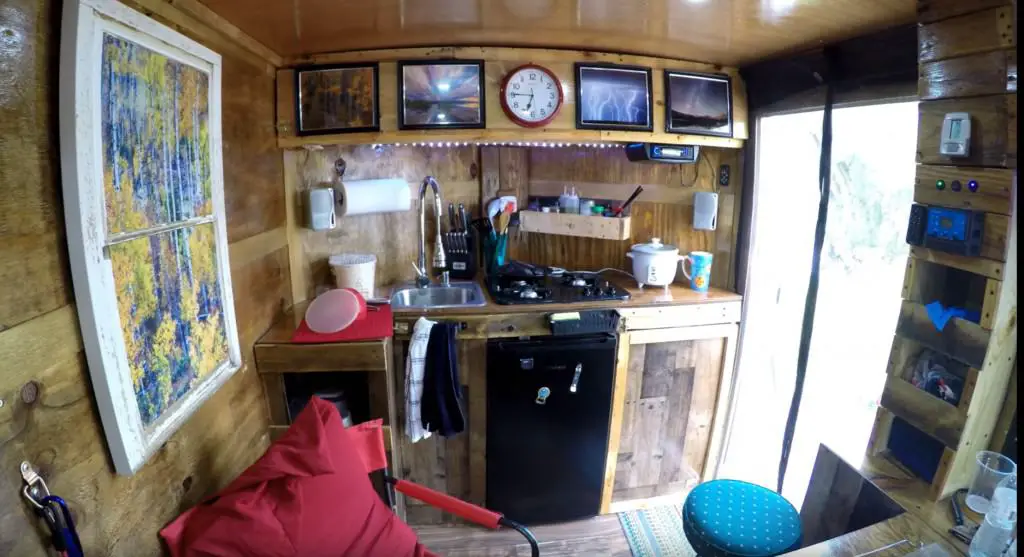 And a bed too of course.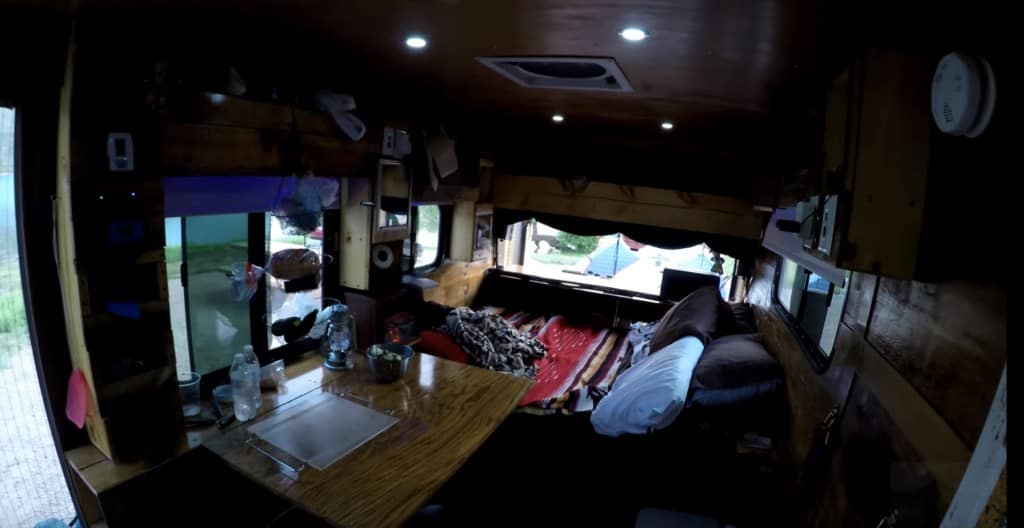 It's perfect for two people and has everything required for a comfortable camping trip.
7×14 Cargo Trailer Toy Hauler Conversion By RetiredGuy Adventures
This enclosed trailer RV has a fantastic awning on the side.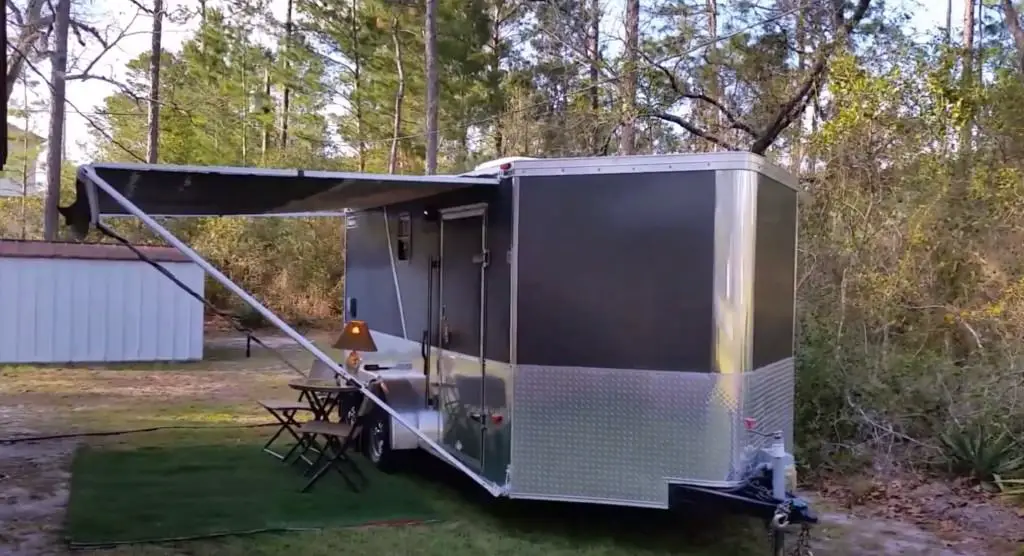 Inside has been insulated and an AC system added as well as some cabinets.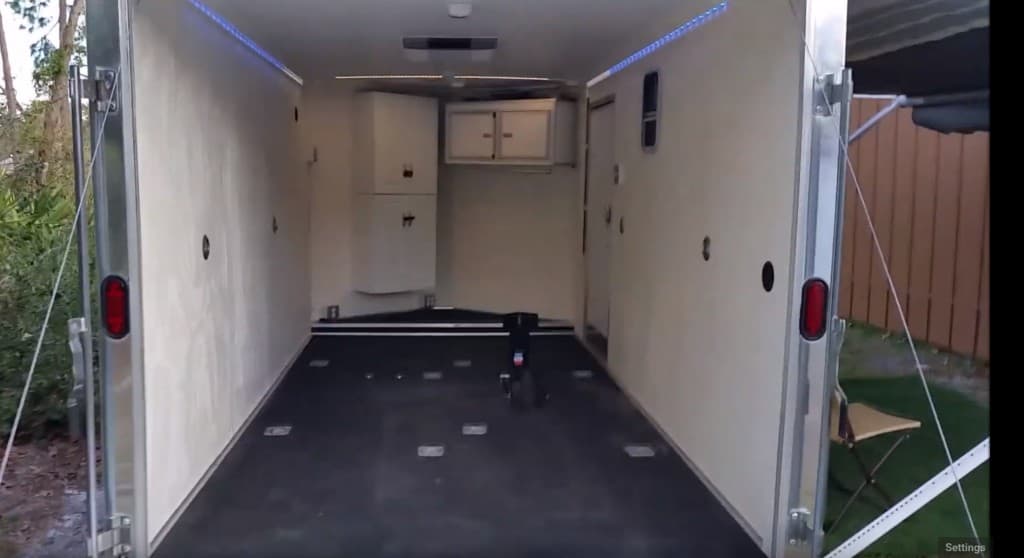 The bed has still to be added but will fold down from the wall.
This means that the trailer can still be used to haul cargo. And in this case, it will be used as a toy hauler because RetiredGuy's bike is going to go with him on camping trips.
It makes sense. If you are going to haul a bike in a trailer why not have an insulated camper trailer that you can camp and sleep in too.
Utahiker's 6×12 Cargo Trailer Conversion
On the outside it looks just like a regular 6 x 12 enclosed utility trailer. Only the small window on the side hints that it's got more to offer.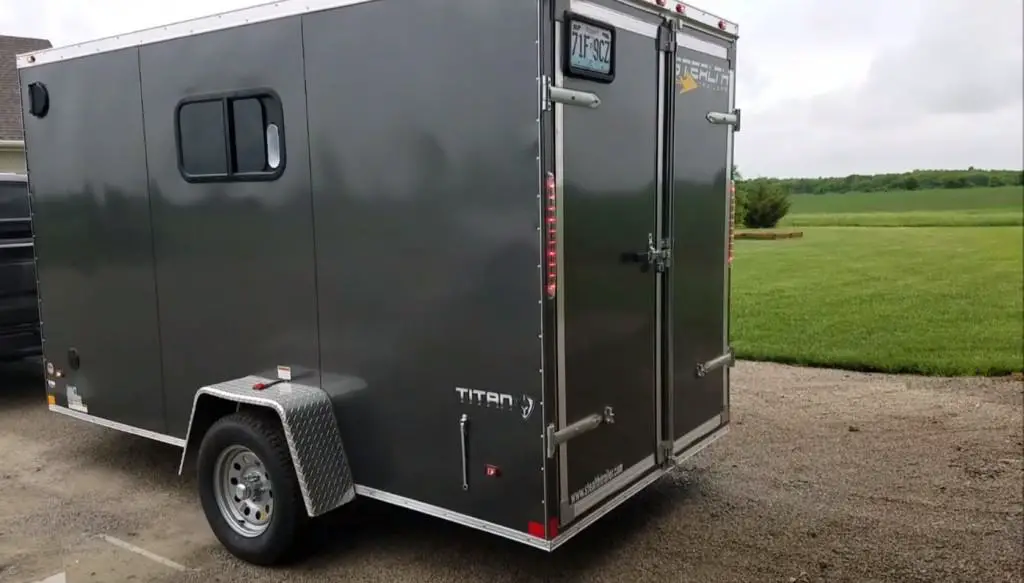 On the inside, there is more to discover.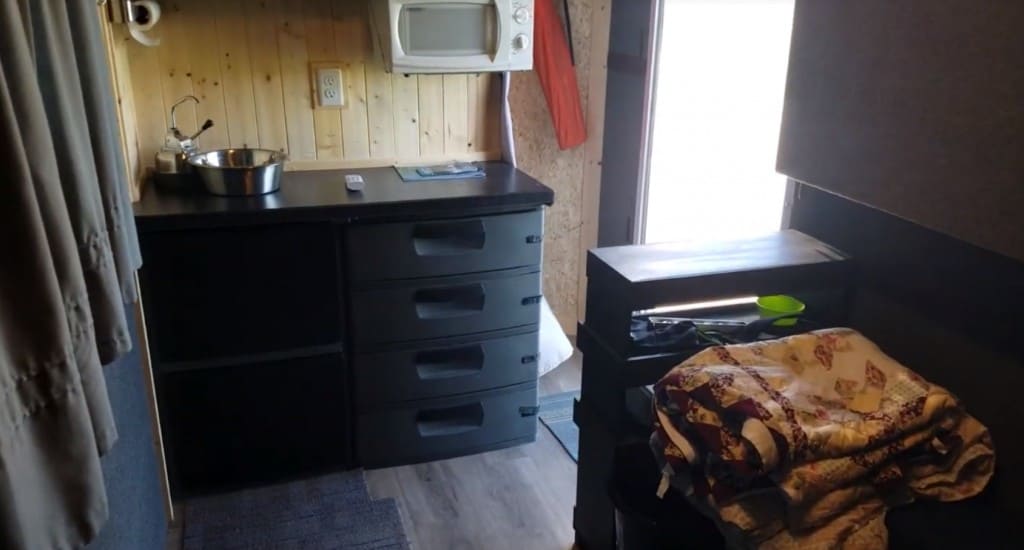 The ceiling is clad with pine planks.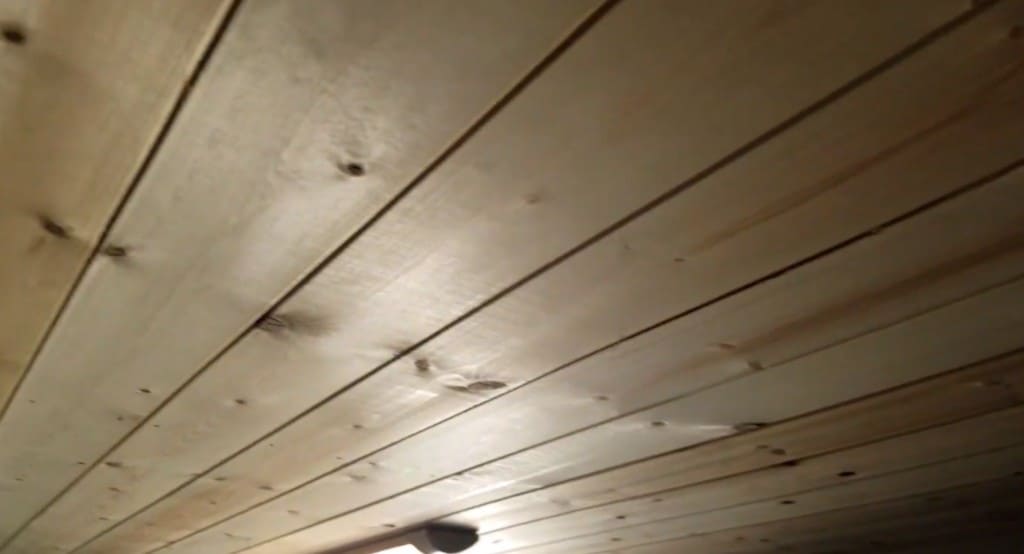 There is a Millard brand sofa mattress and the walls are clad with auto carpet.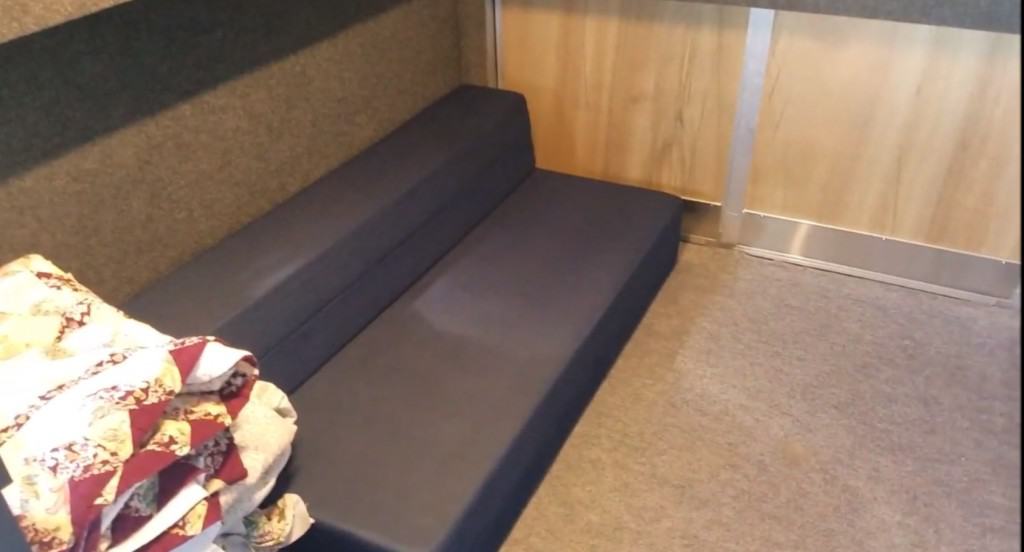 There is also a fold-down bed so the RV can sleep 3 people.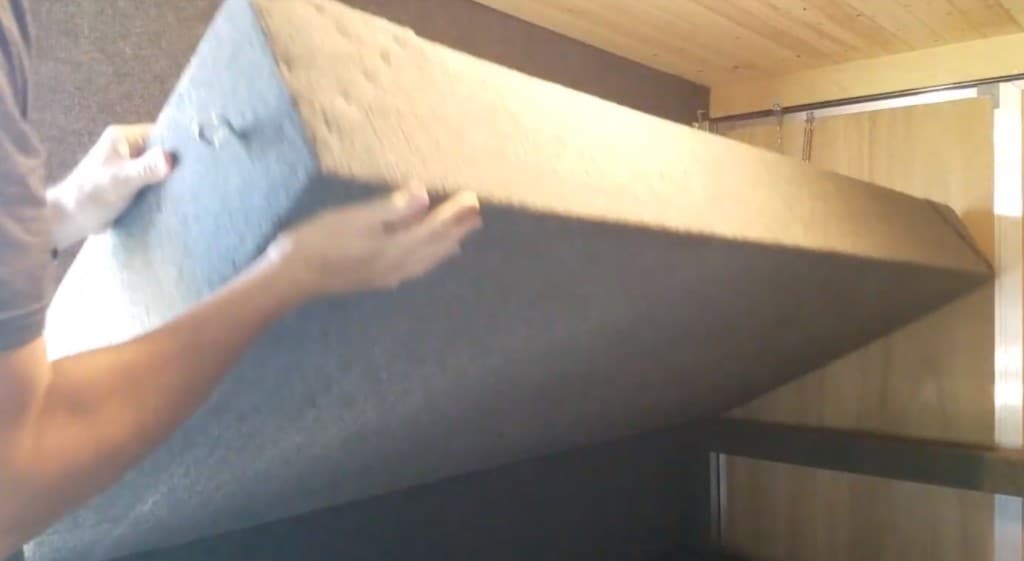 A stainless steel bowl with a hole cut in the bottom makes for an awesome sink.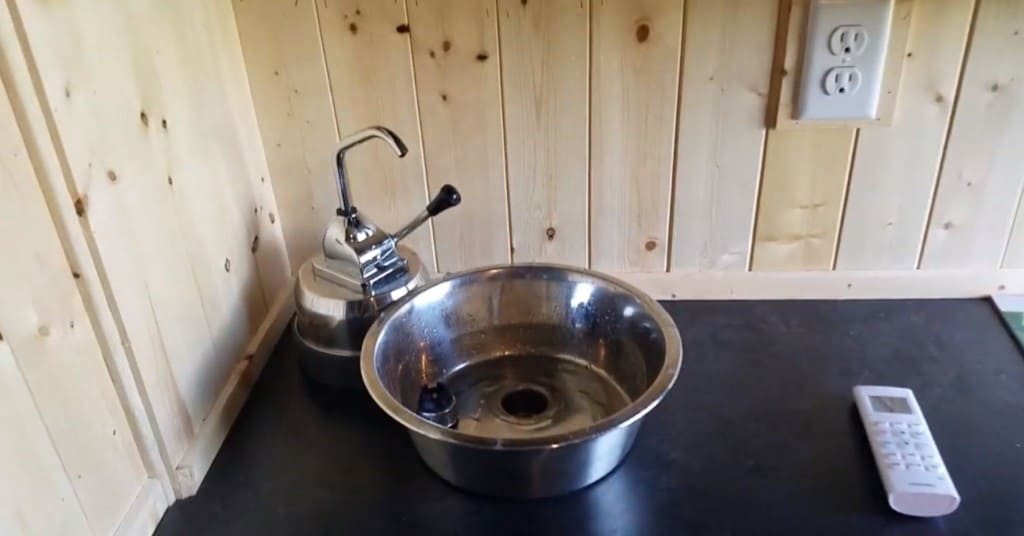 And the v-nose of the cargo trailer has enough room for a closet restroom.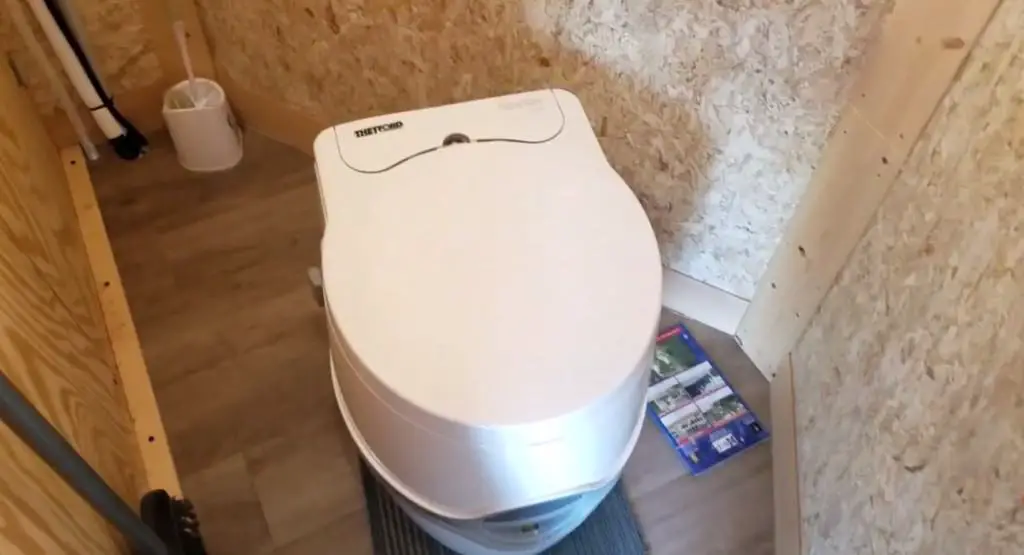 And there is an AC unit in the restroom that cools the entire cargo trailer.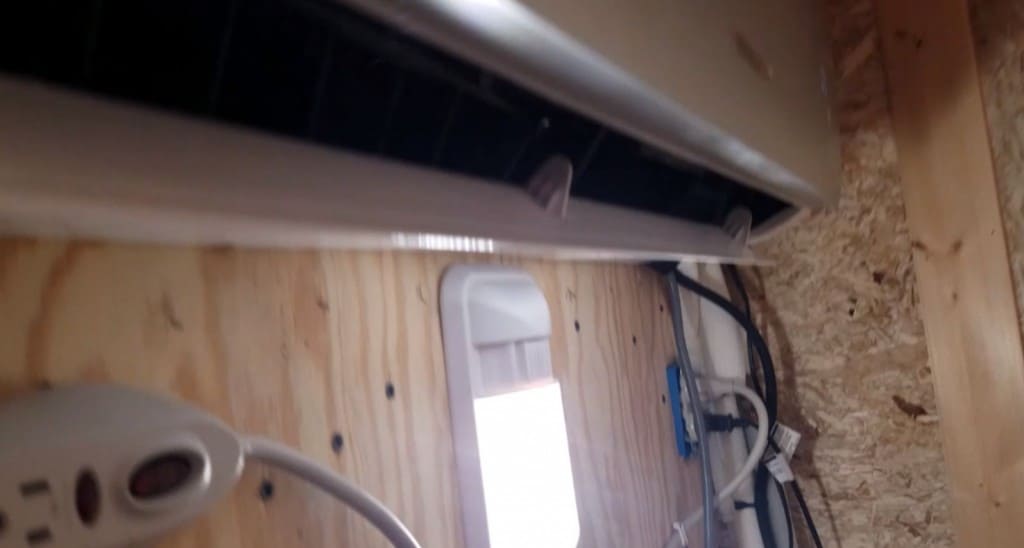 Utahiker built a low-cost travel trailer that you can use more than just a few days a year for a trip to an RV park.
It's still a functioning trailer that you can use to haul cargo and it was built for a fraction of the cost of a travel trailer RV.
Simplebuild's 20 x 7 Cargo Trailer Camper Conversion
If you will be spending a lot of time in your camper then why not get a big one as Simplebuild did.
The manufacturer added the windows.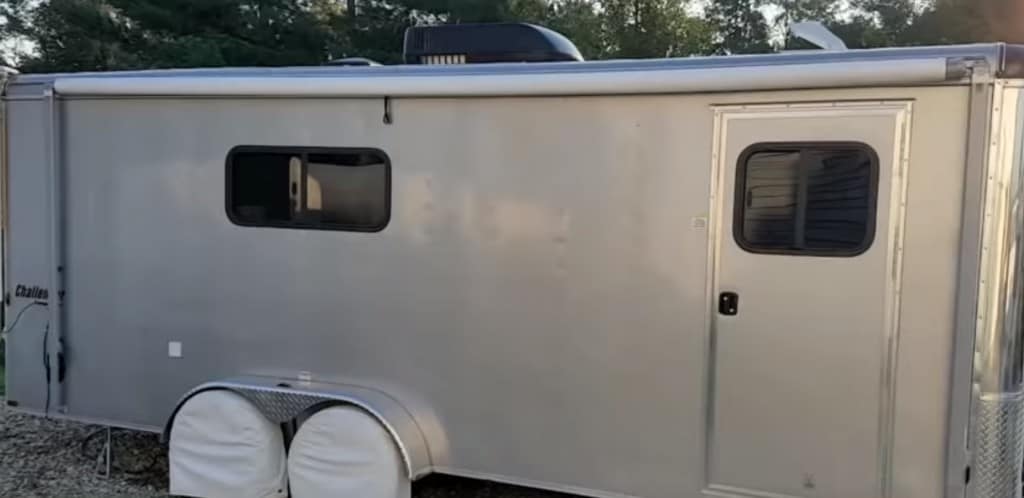 Two propane bottles were mounted to the frame using a propane rack.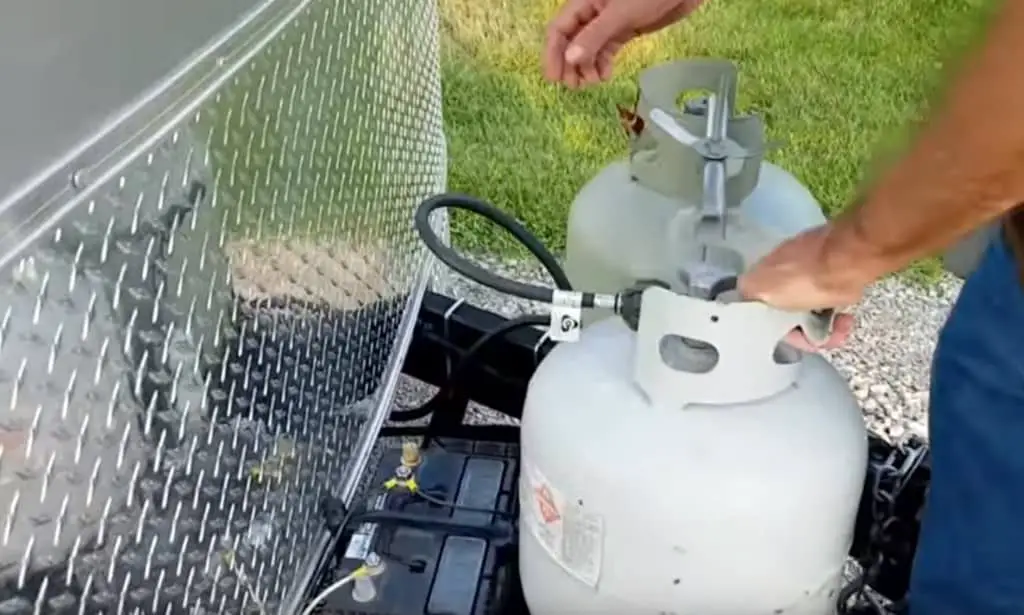 An awning make a great addition to any RV.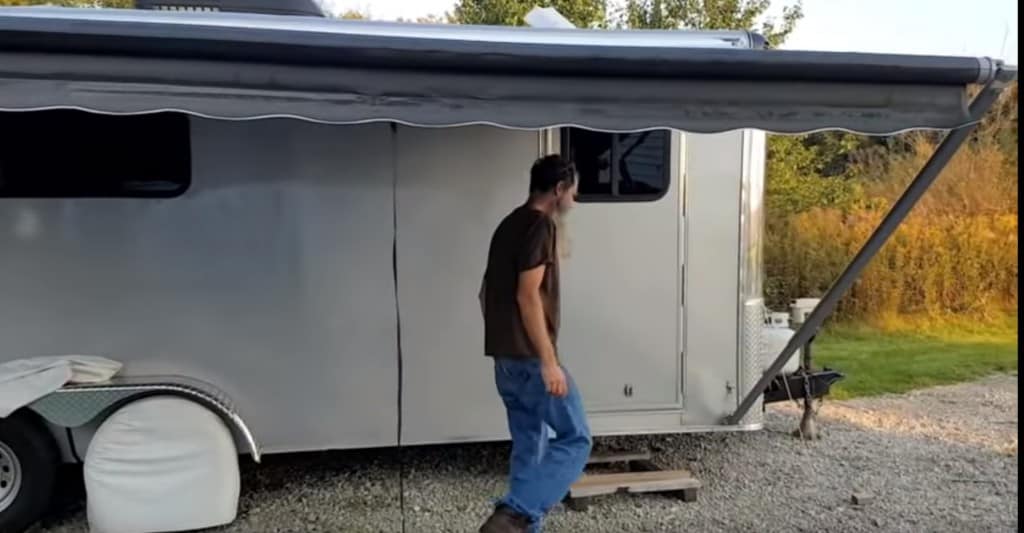 Inside things were kept simple but functional.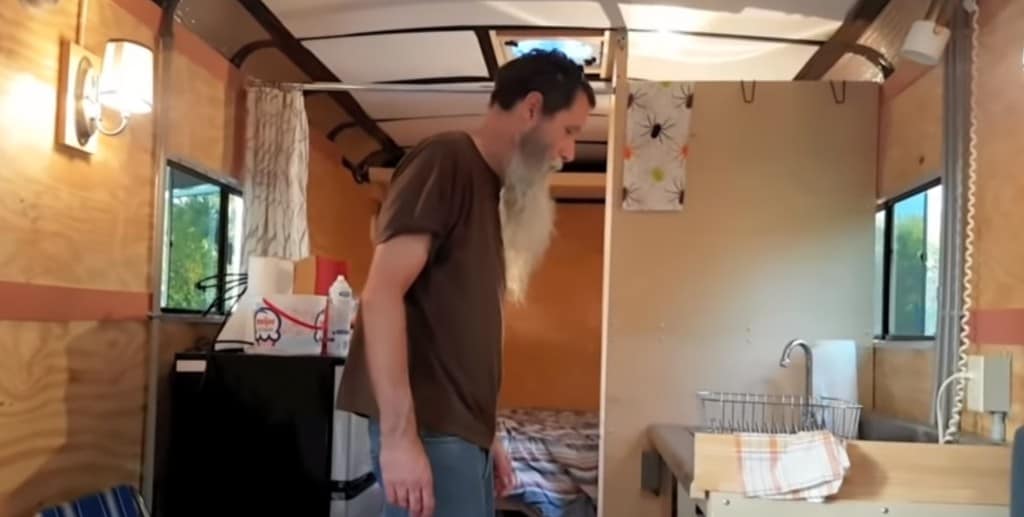 But it's got everything that you need…
Simplebuild give a lot of good tips about sealing the floor but so if you want to hear them go check out their video here.
It's a great example of what you can fit inside a conversion if you are prepared to go for a larger utility trailer.
Fred & Ev's Horse Trailer Camper Conversion
Fred & Ev converted this 1970 horse trailer into a wonderful camper.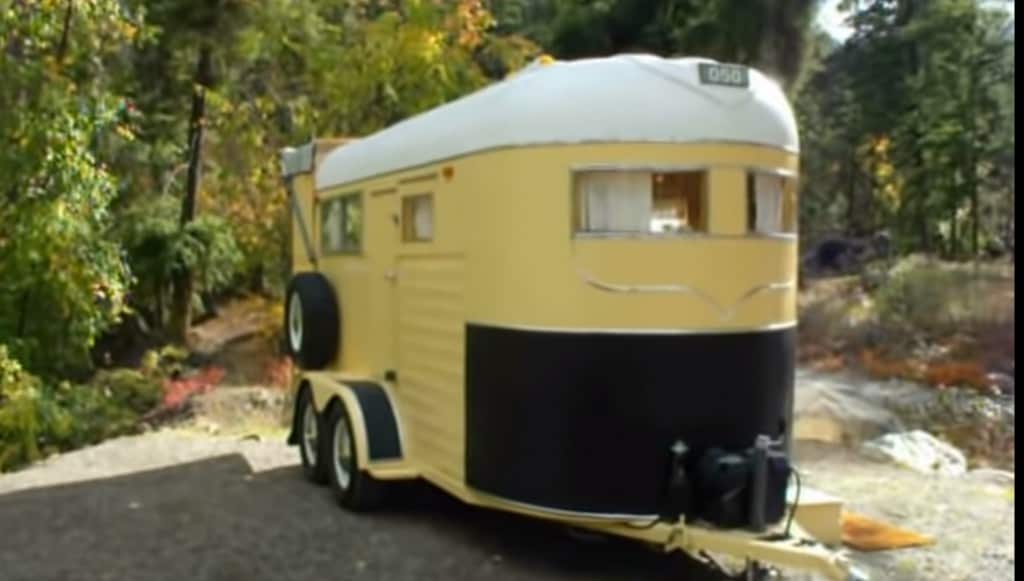 When they found it it was in pretty bad shape.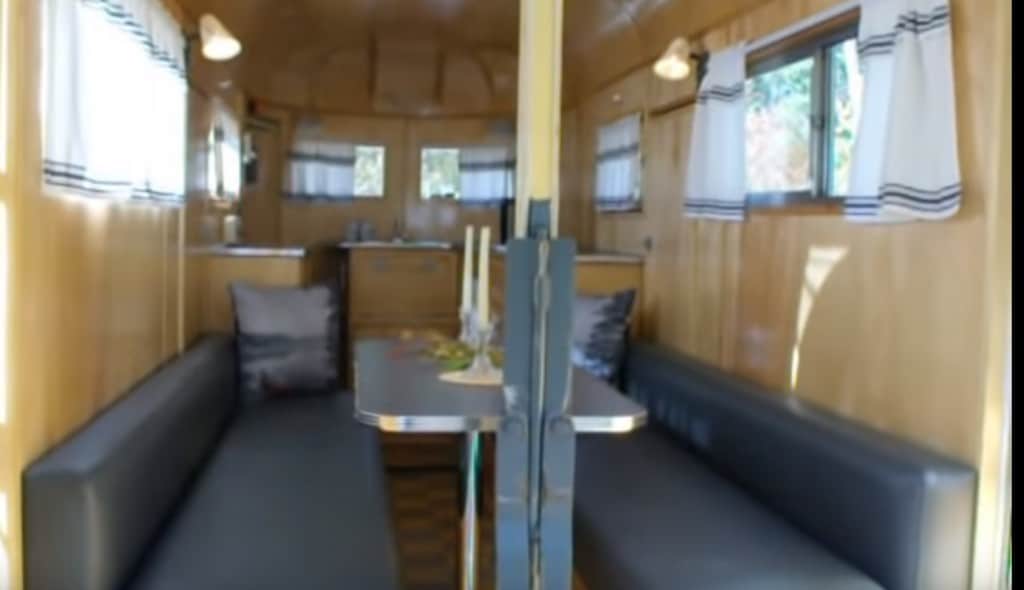 It's now a very romantic, cozy little camper.
The large doors at the back open up to get close to nature.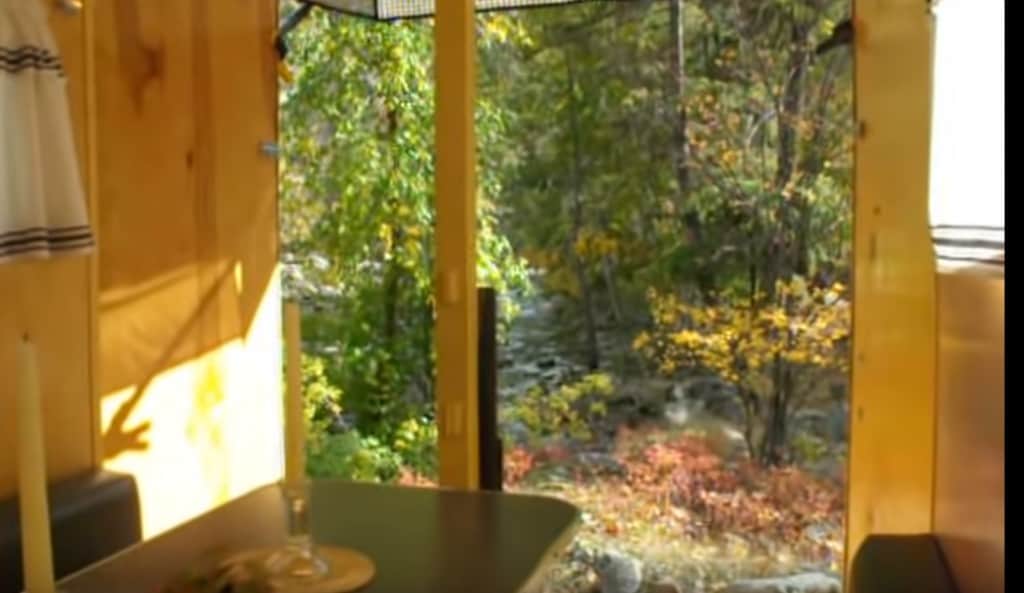 Overall it's a successful restoration project and how nice it much be to wake up to different views every morning!
Cargo Trailer Camper Conversion Floor Plans
You will want to design your own cargo trailer conversion floor plan.
But these floor plans will give you a good place to start from.
Cargo Trailer Conversion Kits
Time is money. And while building your own camper trailer from scratch is the cheapest way it's not the most time-efficient.
If you want to save time check out these links to learn how to build a camper trailer using a conversion kit.
Conclusion
A cargo trailer conversion is a great way to build your own DIY RV. Modern technology means you can have a fully off-grid home contained in a box with electric power and high-speed internet access.
There are pros and cons of course. Using a tow vehicle means it's harder to park than a van or smaller RV.
But it also means you can unhitch and use your vehicle without towing your home.
If you'd like to get into RV camping but don't want to buy a 2nd vehicle then towing a trailer is a great option.
But you do need a vehicle with enough power to pull a trailer.
A cargo trailer conversion will get you away from costly RV parks and out into the great outdoors.
It's more like tent camping but without the discomfort of sleeping in a tent. You can build in as much luxury as you can imagine or require.
Be warned. You might start to wonder if you still need your house or apartment! This type of outdoor adventure travel can be addictive.
Further Reading
https://insteading.com/blog/engineer-turns-trailer-into-diy-camper/